Keiji Mutoh organizó una función más de «Pro Wrestling Masters» su proyecto alterno a Wrestle-1 donde se presentaron las veteranas estrellas de la lucha libre japonesa. En esta ocasión contó con la presencia súper estelar de la leyenda Antonio Inoki, quien en este 2020 celebra 60 años de su debut profesional.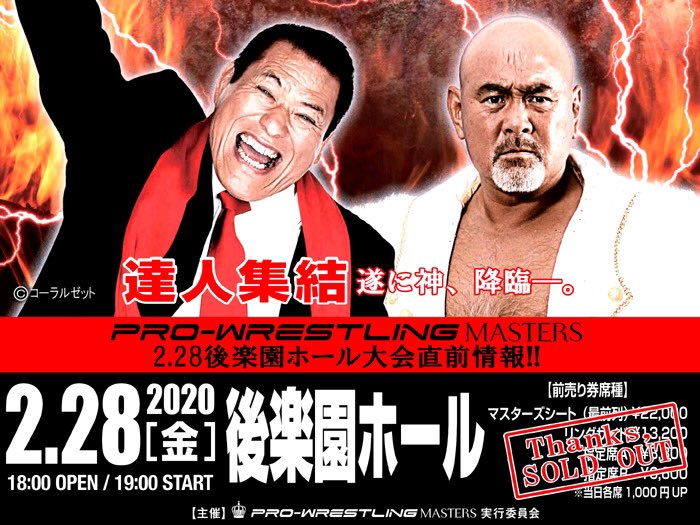 Con la participación de luchadores de otras empresas e independientes pero con gran trayectoria se fueron realizando los combates.
Hiro Saito y Yutaka Yoshie hicieron equipo para imponerse a Shinjiro Otani y Tatsuhito Takaiwa de Zero1, mostrando su gran experiencia.
A continuación, los legendarios Heisei Ishingun (AKIRA, Akitoshi Saito, Masashi Aoyagi y Shiro Koshinaka) volvieron a reencontrarse sobre un cuadrilátero. Sus rivales en turno fue un combinado de experimentados gladiadores Dick Togo, HANZO, Jinsei Shinzaki y The Great Sasuke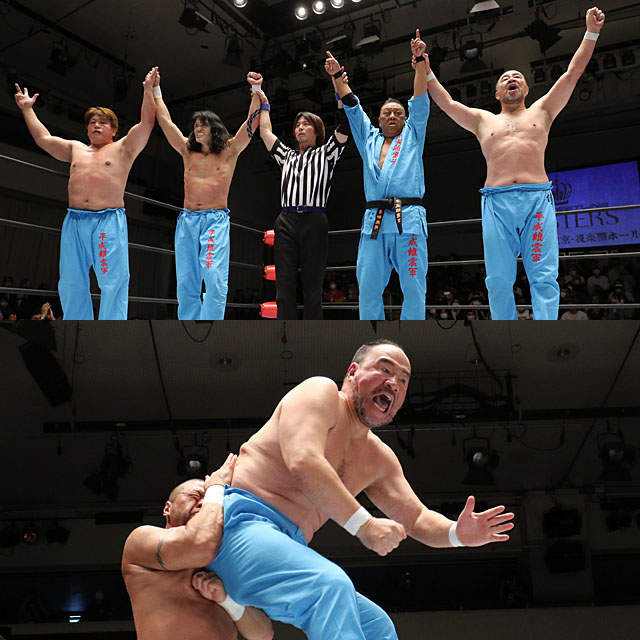 La batalla principal fue protagonizada por Tatsumi Fujinami y Yoshiaki Fujiwara, quienes se impusieron a Keiji Mutoh y Super J, que contaron con el apoyo e intervenciones de Masahiro Chono.
Los estelaristas, excepto Super J, fueron alumnos de Inoki, quien tras la batalla hizo acto de presencia y fue homenajeado recordando seis décadas de su debut.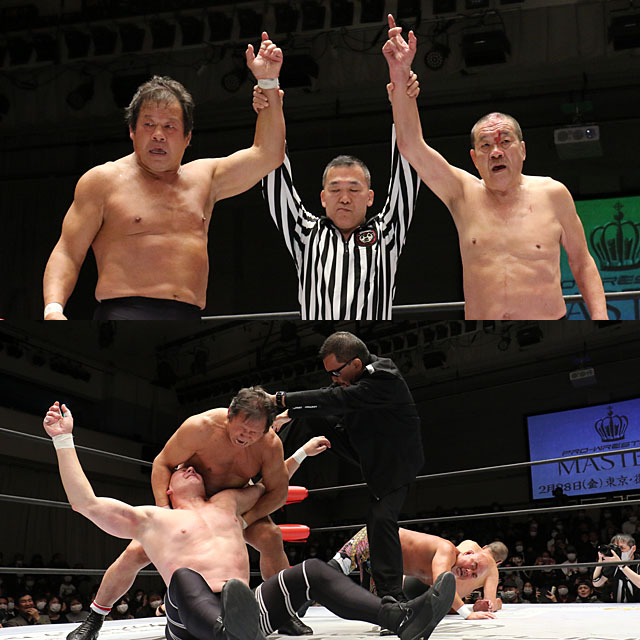 Los resultados completos son:
Keiji Muto Produce «Pro Wrestling Masters», 28.02.2020
Tokyo Korakuen Hall
Asistencia: 1,328 Espectadores
1. FIRST MASTERS Special Singles Match: Mitsuo Momota vs. Hisakatsu Oya – finalizó en empate tras concluir el tiempo límite (15:00).
2. Lucha Masters Gathering! Special Six Man Tag Match: King Lee, Heat y Tiger Emperor vencieron a NOSAWA Rongai, MAZADA y FUJITA (10:50) con un Moonsault Press de Lee sobre MAZADA.
3. Great Masters Gathering! Special Tag Match: Hiro Saito y Yutaka Yoshie derrotaron a Shinjiro Otani y Tatsuhito Takaiwa (11:57) con un Diving Senton de Saito sobre Takaiwa.
4. Heisei Ishin-gun vs. Michinoku Masters Special Eight Man Tag Match: Shiro Koshinaka, AKIRA, Masashi Aoyagi y Akitoshi Saito vencieron a The Great Sasuke, Jinsei Shinzaki, Dick Togo y HANZO (16:02) con un Musabi Press de AKIRA sobre HANZO.
5. PRO-WRESTLING MASTERS Presents 60th Anniversary Memorial Special Tag Match: Tatsumi Fujinami y Yoshiaki Fujiwara derrotaron a Keiji Mutoh y Super J c/Masahiro Chono (13:08) con un Dragon Sleeper de Fujinami sobre Super J.