El 23 de junio pasado nos sorprendimos con la muerte de unos de los pilares de la lucha extrema japonesa, el beligerante Mr. Pogo, a la edad de 66 años.  Una de la empresas que contribuyeron a su auge y popularidad fue Frontier Martial Arts Wrestling (en su primera etapa).  Por tal motivo, la empresa y Atsushi Onita (uno de sus históricos rivales) consideraron necesario rendirle un memorial a través de la función denominada «Ringside one Flower of Flowers» que tuvo lugar en el Shin Kiba 1st RING de la capital japonesa.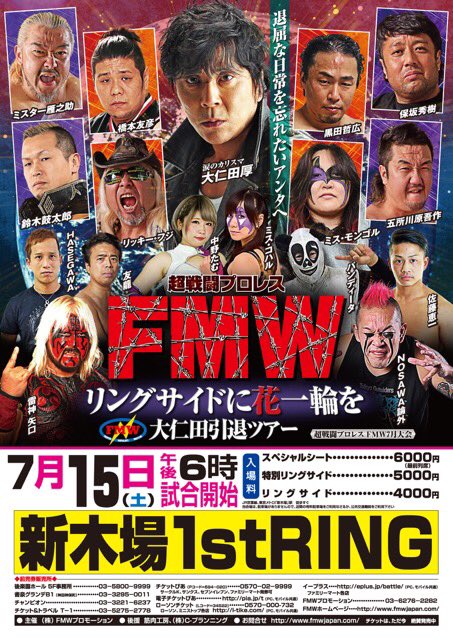 Al inicio de la función se llevó a cabo la ceremonia del toque de los 10 gongs, W*ING Kanemura portó la foto del legendario gladiador y haciendo guardia de honor sobre el ring Atsushi Onita y Hideki Hosaka (caracterizado como Mr. Pogo).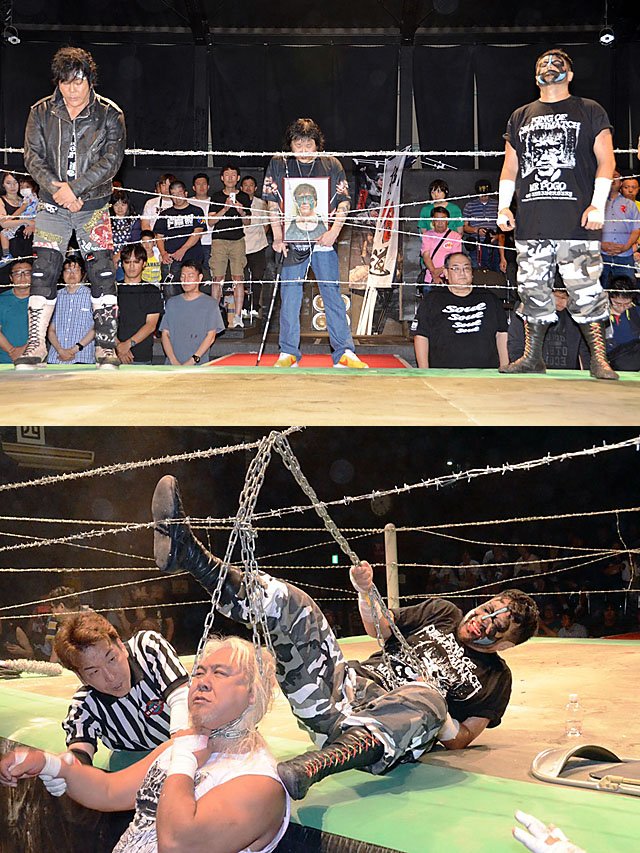 La batalla estelar fue justamente dedicada al «Emperador del Deathmatch» donde Mr. Pogo II, Great Pogo y Onryu unieron fuerzas para doblegar a Atsushi Onita, Raijin Yaguchi y Ricky Fuji en una sangrienta reyerta de 12:09 minutos de duración que culminó cuando Pogo II noqueó a Ricky Fuji.
Los resultados completos son
FMW «ONITA RETIREMENT TOUR ~ RINGSIDE ONE FLOWER OF FLOWERS», 15/07/2017
«Ringside one Flower of Flowers»
Asistencia: 350 Espectadores
1. Carbonless Iron Wire Current Blast Death Match: Pandita venció a Buatsushi Futonita (8:47) con Carbonless Iron Wire Bat Attack.
2. [B]UWA World Lightweight Title: Kancho Nagase (c) derrotó a Shigeo Kato (14:32) con un Small Package.
3. Tomoryu, Naoshi Sano y Raiden vencieron a Shocker, Wild Bear y Wild Seven (10:17) con Diving Elbow Drop de Tomoryu sobre Shocker.
4. Kotaro Suzuki, Tomohiko Hashimoto y Keiichi Sato derrotaron a Leatherface, Katsunari Toi y NOSAWA Rongai (12:35) con la K1 Clutch de Sato sobre Leatherface.
5. FMW Joshi Pro-Wrestling ~ Lumberjack Death Match: Tamu Nakano venció a Miss Mongol (11:12) con un Barbed Wire Bat Attack de Wild Seven.
6. Late Mr. Pogo Memorial Match ~ Pogo Yukari No Ropes Barbed Wire Bunkhouse Death Match: Mr. Pogo II, Great Pogo y Onryu derrotaron a Atsushi Onita, Raijin Yaguchi y Ricky Fuji (12:09) con KO (Pogo II goléó a Fuji con una cadena).