Se ha revelado la primera parte del Calendario de encuentros para la doceava edición del torneo de parejas «Goddess of Stardom Tag League» de Stardom.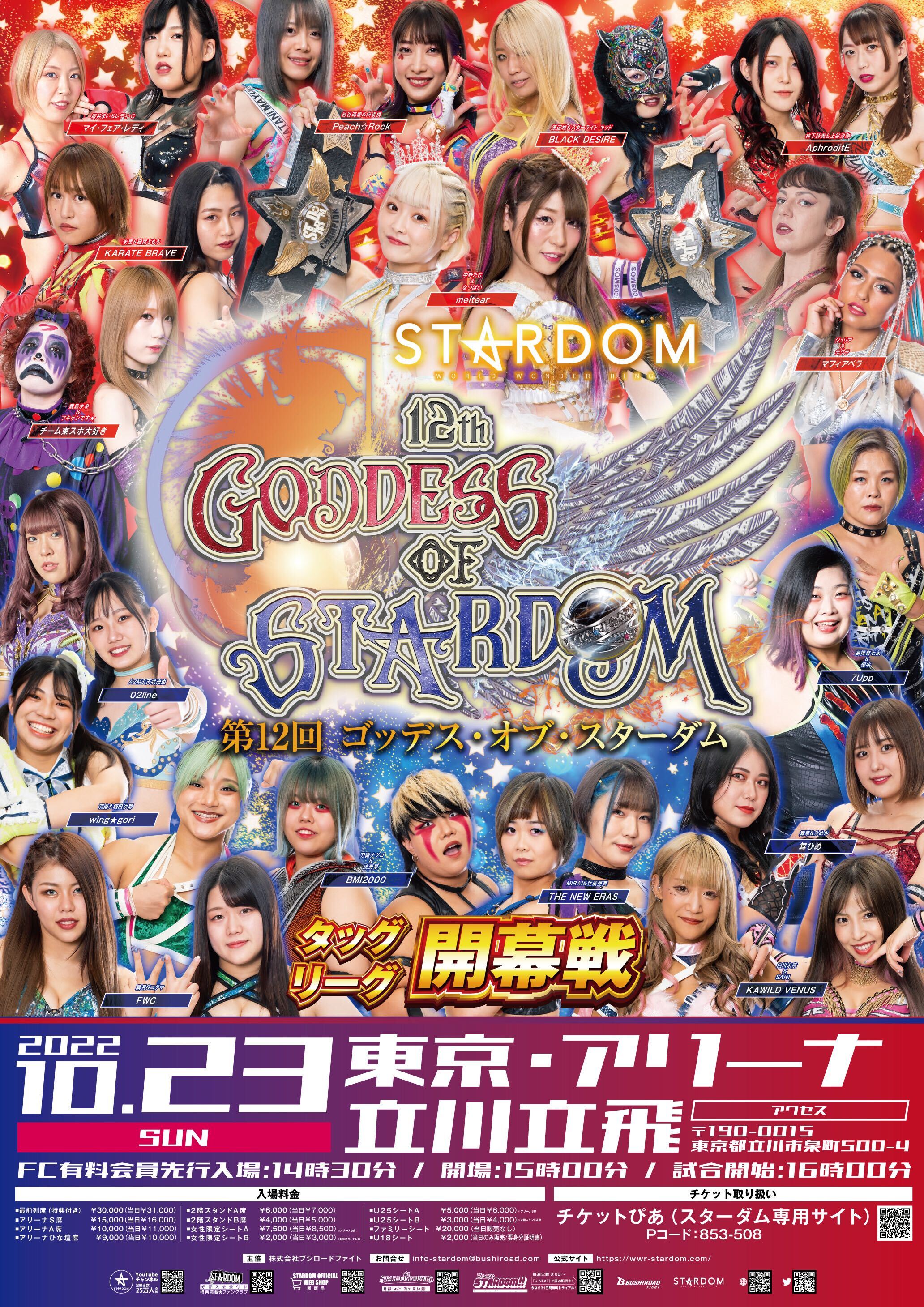 ► «Goddess of Stardom Tag League» – Grupos
La competencia comenzará el 23 de octubre y concluirá el 4 de diciembre. Se dieron a conocer los encuentros hasta el 23 de noviembre, correspondiente a ocho jornadas de competencia.
Serán 16 duplas las que compitan, divididas en dos grupos. Por cada victoria se otorgarán dos puntos, uno por empate y ninguno en caso de derrota.
Red Goddess:
– Mai Sakurai y Lady C (Mai Fair Lady)
– Syuri y Tomoka Inaba (Karate Brave)
– Mayu Iwatani y Momo Kohgo (Peach☆Rock)
– Giulia y Thekla (Mafia Bella)
– Momo Watanabe y Starlight Kid (Black Desire)
– Saki Kashima y Fukigen Death (We Love Tokyo Sports)
– Tam Nakano y Natsupoi (meltear)
– Utami Hayashishita y Saya Kamitani (AphroditE)
Blue Goddess:
– MIRAI y Ami Sohrei (The New Eras)
– Mina Shirakawa y SAKI (Kawild Venus)
– Hanan y Saya Iida (wing★gori)
– AZM y Miyu Amasaki (02line)
– Hazuki y Koguma (FWC)
– Maika y Himeka (MaiHime)
– Nanae Takahashi y Yuu (7Upp)
– Natsuko Tora y Ruaka (BMI2000)
► «Goddess of Stardom Tag League» – Calendario de encuentros (Primera parte)
Stardom «12TH GODDESS OF STARDOM TAG LEAGUE», 23.10.2022
Arena Tachikawa Tachihi
– Goddess of Stardom – Red Goddess: Mai Sakurai y Lady C vs. Saki Kashima y Fukigen Death★
– Goddess of Stardom – Red Goddess: Tam Nakano y Natsupoi vs. Giulia y Thekla
– Goddess of Stardom – Blue Goddess: Mina Shirakawa y SAKI vs. Natsuko Tora y Ruaka
– Goddess of Stardom – Blue Goddess: AZM y Miyu Amasaki vs. Saya Iida y Hanan
– Goddess of Stardom – Blue Goddess: Hazuki y Koguma vs. Nanae Takahashi y Yuu
– IWGP Women's Title Tournament – Semifinal: KAIRI vs. Alpha Female
– IWGP Women's Title Tournament – Semifinal: Hayashishita/Himeka vs. Iwatani/Watanabe
Stardom «12TH GODDESS OF STARDOM TAG LEAGUE», 30.10.2022
Fukushima Big Palette
– Goddess of Stardom – Red Goddess: Utami Hayashishita y Saya Kamitani vs. Saki Kashima y Fukigen Death★
– Goddess of Stardom – Blue Goddess: Hazuki y Koguma vs. AZM y Miyu Amasaki
– Goddess of Stardom – Blue Goddess: Saya Iida y Hanan vs. Natsuko Tora y Ruaka
Stardom «12TH GODDESS OF STARDOM TAG LEAGUE», 05.11.2022
Nara Convention Center
– Goddess of Stardom – Red Goddess: Mayu Iwatani y Momo Kohgo vs. Utami Hayashishita y Saya Kamitani
– Goddess of Stardom – Red Goddess: Syuri y Tomoka Inaba vs. Giulia y Thekla
– Goddess of Stardom – Blue Goddess: Hazuki y Koguma vs. Mina Shirakawa y SAKI
– Goddess of Stardom – Blue Goddess: Nanae Takahashi y Yuu vs. MIRAI y Ami Sohrei
Stardom «12TH GODDESS OF STARDOM TAG LEAGUE», 06.11.2022
Messe Wing Mie
– Goddess of Stardom – Red Goddess: Mayu Iwatani y Momo Kohgo vs. Momo Watanabe y Starlight Kid
– Goddess of Stardom – Red Goddess: Giulia y Thekla vs. Mai Sakurai y Lady C
– Goddess of Stardom – Red Goddess: Tam Nakano y Natsupoi vs. Syuri y Tomoka Inaba
– Goddess of Stardom – Blue Goddess: Hazuki y Koguma vs. Natsuko Tora y Ruaka
Stardom «12TH GODDESS OF STARDOM TAG LEAGUE», 12.11.2022
Sagae City Municipal Gymnasium
– Goddess of Stardom – Red Goddess: Mayu Iwatani y Momo Kohgo vs. Mai Sakurai y Lady C
– Goddess of Stardom – Red Goddess: Utami Hayashishita y Saya Kamitani vs. Momo Watanabe y Starlight Kid
– Goddess of Stardom – Red Goddess: Giulia y Thekla vs. Saki Kashima y Fukigen Death★
– Goddess of Stardom – Blue Goddess: Saya Iida y Hanan vs. Maika y Himeka
– Goddess of Stardom – Blue Goddess: Mina Shirakawa y SAKI vs. MIRAI y Ami Sohrei
– Goddess of Stardom – Blue Goddess: AZM y Miyu Amasaki vs. Natsuko Tora y Ruaka
Stardom «12TH GODDESS OF STARDOM TAG LEAGUE», 13.11.2022
Aztec Museum Sendai Industrial Exhibition Hall
– Goddess of Stardom – Red Goddess: Tam Nakano y Natsupoi vs. Momo Watanabe y Starlight Kid
– Goddess of Stardom – Red Goddess: Utami Hayashishita y Saya Kamitani vs. Mai Sakurai y Lady C
– Goddess of Stardom – Blue Goddess: Saya Iida y Hanan vs. Mina Shirakawa y SAKI
– Goddess of Stardom – Blue Goddess: Maika y Himeka vs. Natsuko Tora y Ruaka
– Goddess of Stardom – Blue Goddess: MIRAI y Ami Sohrei vs. AZM y Miyu Amasaki
Stardom «STARDOM GOLD RUSH 2022», 19.11.2022
Osaka Edion Arena
– Goddess of Stardom – Red Goddess: Saki Kashima y Fukigen Death★ vs. Momo Watanabe y Starlight Kid
– Goddess of Stardom – Blue Goddess: Maika y Himeka vs. Nanae Takahashi y Yuu
Stardom «12TH GODDESS OF STARDOM TAG LEAGUE», 23.11.2022
Tokyo Korakuen Hall
– Goddess of Stardom – Red Goddess: Mayu Iwatani y Momo Kohgo vs. Syuri y Tomoka Inaba
– Goddess of Stardom – Red Goddess: Momo Watanabe y Starlight Kid vs. Mai Sakurai y Lady C
– Goddess of Stardom – Red Goddess: Utami Hayashishita y Saya Kamitani vs. Giulia y Thekla
– Goddess of Stardom – Red Goddess: Tam Nakano y Natsupoi vs. Saki Kashima y Fukigen Death★
– Goddess of Stardom – Blue Goddess: Hazuki y Koguma vs. Saya Iida y Hanan
– Goddess of Stardom – Blue Goddess: Mina Shirakawa y SAKI vs. Nanae Takahashi y Yuu
– Goddess of Stardom – Blue Goddess: AZM y Miyu Amasaki vs. Maika y Himeka
– Goddess of Stardom – Blue Goddess: Natsuko Tora y Ruaka vs. MIRAI y Ami Sohrei