Best in the World, celebrado el pasado 11 de julio, marcó el inicio de un nuevo rumbo para Ring of Honor, con la victoria de Bandido sobre Rush para coronarse máximo monarca. 
Un PPV que quizás supusiera la última para «el Toro Blanco» en ROH, porque a comienzos del presente mes, se anunció que el mexicano no volverá a competir debido una lesión de rodilla en todo lo que resta de 2021, entre rumores de que quiere cambiar de aires con destino a WWE o AEW. 
Y tras el especial Glory By Honor, esta noche llega una nueva parada de peso, Death Before Dishonor, a celebrarse desde la mítica 2300 Arena de Philadelphia (Pennsylvania), y que inicialmente iba a tener lugar en el RP Funding Center de Lakeland (Florida), sede frustrada por el reciente repunte de casos de COVID-19 en ese estado. 
► ROH busca coronar a su nueva monarca femenil
Pero, ¿qué presenta Death Before Dishonor? Quiero mencionar en primer lugar la final del torneo que determinará a la primera portadora del Campeonato Mundial Femenil ROH, sucesor del Campeonato Mundial Women of Honor. Como contendientes, Miranda Alize y Rok-C, luchadoras relativamente desconocidas que con un buen manejo pueden llegar a hacer mucho ruido. 
Del resto del menú, destacar un Fatal 4-Way bajo el que Bandido pondrá sobre la mesa el título mundial varonil, un choque entre Jonatan Gresham y Josh Woods por el Campeonato Puro, un choque de tercias por los cinturones de esta división y los regresos de Jake Atlas y Taylor Rust, despedidos de WWE el pasado 6 de agosto.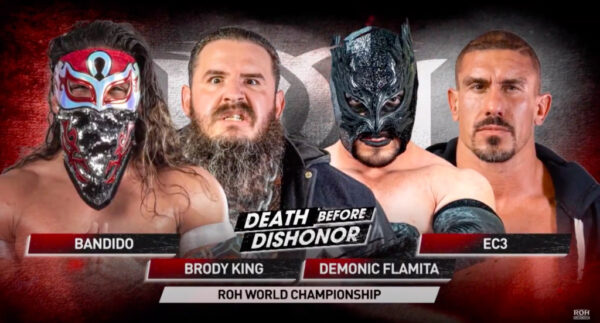 He aquí el cartel completo de la velada. 
CAMPEONATO MUNDIAL ROH
Bandido (c) vs. Brody King vs. Demonic Flamita vs. EC3
CAMPEONATO MUNDIAL FEMENIL ROH
Miranda Alize vs. Rok-C
CAMPEONATO PURO ROH; COMBATE DE REGLAS PURAS
Jonathan Gresham (c) vs. Josh Woods
CAMPEONATO MUNDIAL DE TERCIAS ROH
Shane Taylor Promotions (c) vs. La Facción Ingobernable
The Briscoes vs. The OGK
Jake Atlas vs. Taylor Rust
Violence Unlimited vs. John Walters, Lee Moriarty y LSG
Dalton Castle vs. Eli Isom

[HOUR ONE]
HONOR RUMBLE POR UNA OPORTUNIDAD AL CAMPEONATO MUNDIAL ROH
Danhausen vs. Beer City Bruiser vs. Rey Horus vs. Dak Draper vs. Brian Johnson vs. PJ Black vs. Silas Young vs. Joe Keys vs. Brian Milonas vs. Sledge vs. 5 luchadores más por determinar
DON'T MISS DEATH BEFORE DISHONOR LIVE ON PPV AND HONORCLUB TOMORROW NIGHT!

THE FIRST HOUR OF #ROHDBD IS AIRING FOR FREE AT 7 PM ET ON YOUTUBE, FACEBOOK, HONORCLUB AND ALL CHANNELS CARRYING THE PPV.

2300 S SWANSON ST.
PHILADELPHIA, PA 19148

TICKETS: https://t.co/TTkDabQoOI pic.twitter.com/zjogk6Cewl

— ROH Wrestling (@ringofhonor) September 11, 2021