Aomori fue la quinta escala de la gira «Best of the Super Jr. 29», donde New Japan Pro Wrestling presentó las actividades del Grupo A.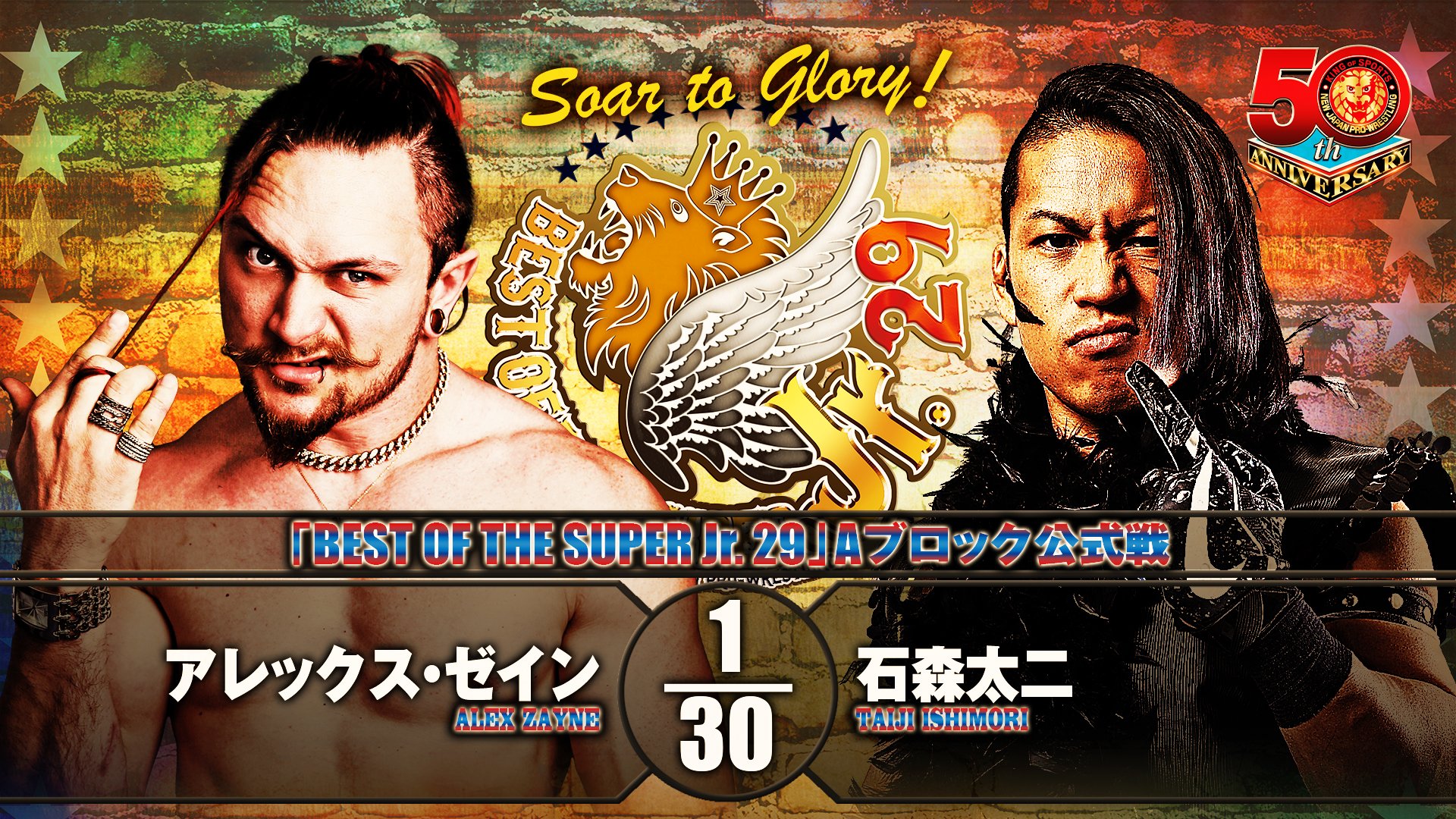 ►»Best of the Super Jr. 29″ – Día 5
Usando sus habituales trampas, SHO se impuso en el duelo que sostuvo ante Clark Connors. Incluso propinó una patada en la zona de los bajos y llevó a Connors al toque de espaldas. Tras la lucha, Connors reclamó airadamente, pero sin éxito.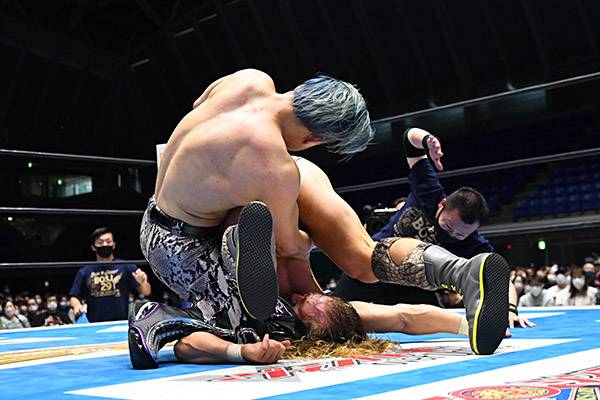 Ryusuke Taguchi obtuvo sus primeros dos puntos sorprendiendo al joven Francesco Akira, a pesar de que éste dominó la mayor parte del encuentro.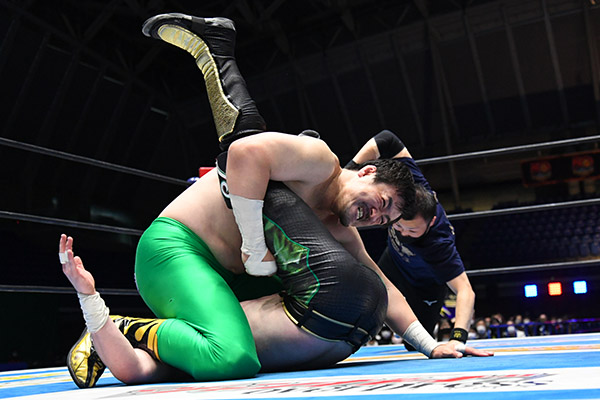 Siguió el choque entre YOH y Yoshinobu Kanemaru. Éste tomó la iniciativa golpeando la rodilla lastimada de su rival a fin de minar su condición física. Pero YOH resistió los embates y en un momento dado, tomó la botella whisky de Kanemaru, tomó un trago y lo escupió en su cara, para rematarlo con una serie de patadas.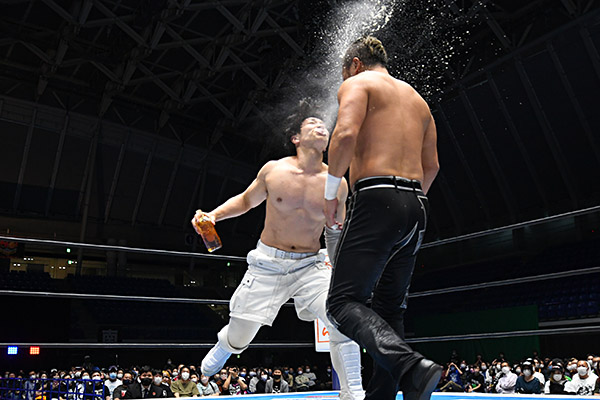 En un trepidante encuentro, Hiromu Takahashi doblegó a Ace Austin para ligar su tercer resultado positivo. En la primera parte del duelo, éste fue nivelado, con ataque de parte de ambos luchadores, pero Takahashi logró esquivar el castigo final de Austin y lanzó una combinación letal de Hiromu-chan Bomber, Victory Royal y TIME BOMB II.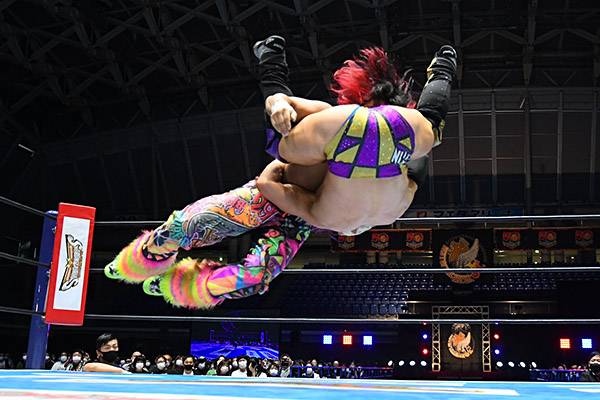 Otro que continúa invicto es Taiji Ishimori, el monarca de la categoría, quien se midió ante Alex Zayne. La vertiginosidad de Zayne fue frenada por castigos de sumisión al brazo, que Ishimori propinó sin reserva, hasta que logró sacarle la rendición a Zayne.

Los resultados completos son:
NJPW «BEST OF THE SUPER JR. 29», 21.05.2022
Shin-Aomori General Sports Park Maeda Arena Main Arena
Asistencia: 1,720 Espectadores
1. Titan, El Lindaman y Jado vencieron a El Phantasmo, Dick Togo y Gedo (9:23) con un German Suplex Hold de Lindaman sobre Gedo.
2. Shingo Takagi y BUSHI derrotaron a Hiroyoshi Tenzan y Master Wato (9:01) con la Pumping Bomber de Takagi sobre Tenzan.
3. Tiger Mask, Robbie Eagles y Wheeler Yuta vencieron a El Desperado, TAKA Michinoku y DOUKI (9:31) con un Turbo Backpack de Eagles sobre TAKA.
4. Best of the Super Jr. – Grupo A: SHO [2] derrotó a Clark Connors [0] (10:29) con un Horizontal Cradle.
5. Best of the Super Jr. – Grupo A: Ryusuke Taguchi [2] venció a Francesco Akira [2] (12:17) po Pinfall.
6. Best of the Super Jr. – Grupo A: YOH [4] derrotó a Yoshinobu Kanemaru [0] (10:43) con un Direct Drive.
7. Best of the Super Jr. – Grupo A: Hiromu Takahashi [6] venció a Ace Austin [4] (12:50) con la TIME BOMB II.
8. Best of the Super Jr. – Grupo A: Taiji Ishimori [6] derrotó a Alex Zayne [4] (13:45) con la Bone Lock.
– Best of the Super Jr. 29 – Clasificación Parcial:
Grupo A:
1. Hiromu Takahashi [6]
-. Taiji Ishimori [6]
3. Ace Austin [4]
-. Alex Zayne [4]
-. YOH [4]
6. Francesco Akira [2]
-. Ryusuke Taguchi [2]
-. SHO [2]
9. Clark Connors [0]
-. Yoshinobu Kanemaru [0]