El Shin-Kiba 1st RING de Tokio fue el recinto que recibió a la empresa Ganbare Pro con su evento «Don't Stop me Now 2019«.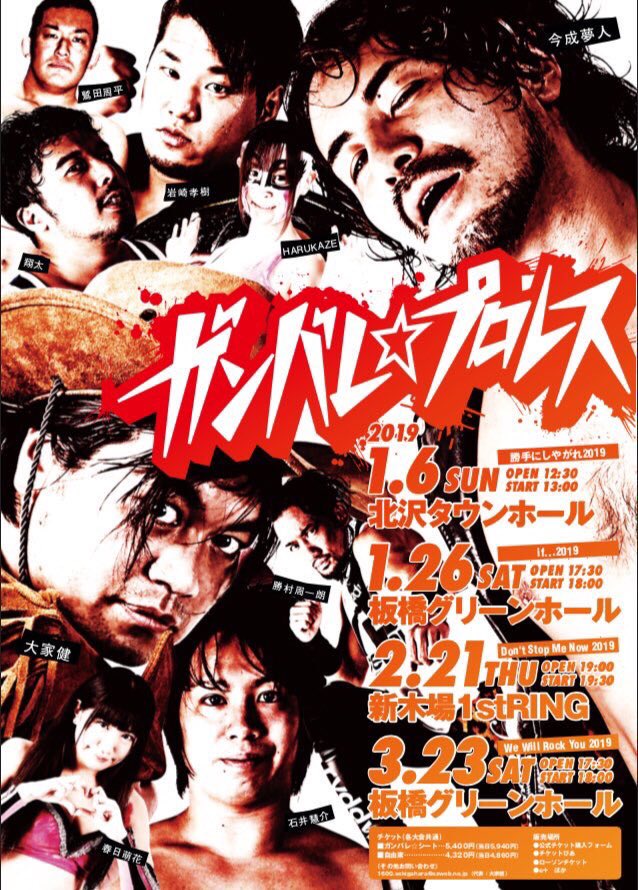 En este evento tuvo su presentación estelar la luchadora independiente Andras Miyagi quien se midió a Moeka Haruhi. Las acciones subieron de intensidad que incluso se golpearon en ringside y se dio el doble conteo fuera. Se permitió el reinicio de la lucha y terminó con el mismo resultado.
まさかのリングアウトドローで決着&再試合開始!
○第3試合 ガンジョのど真ん中には魔空間があった!
春日萌花 vs アンドラス宮城https://t.co/5BjAKB7dKa#ddtuniverse #ガンプロ pic.twitter.com/WZiCLLJUAZ

— DDT UNIVERSE【VIDEOS】 (@ddtuniverse) February 21, 2019
Imanari aprendió mucho de la lucha individual que sostuvo con Ohtani. Al final de la batalla, el veterano gladiador le dio como consejo, buscar siempre su estilo y defenderlo.
Ken Ohka, Shota y Shuichiro Katsumura se impusieron al equipo de Sento Minzoku (Daiki Shimomura, Isami Kodaka y Ryuichi Sekine). Concluida la reyerta, Ohka exigió una lucha individual contra Kodaka, quien al principio lo ignoró, pero terminó aceptando el desafío.
Minoru Fujita se llevó el triunfo en la lucha estelar contra Keisuke Ishii. Éste luchador hizo todo por ganar el combate, pero al final fue sorprendido por la argucia de Fujita. Al final, Fujita lo felicitó por el excelente nivel mostrado.
Los resultados completos son:
Ganbare Pro «DON'T STOP ME NOW 2019», 21/02/2019
Shin-Kiba 1st RING
Asistencia: 151 Espectadores
1. Kicking the soul: Hiroshi Yamato y Nobuhiro Tsurumaki vencieron a Kouki Iwasaki y Shuhei Washida (11:50) con un Fisherman's Suplex Hold de Yamato sobre Washida.
2. Gan Pro Special Dream Match: Naoshi Sano derrotó a Chikara (8:46) por detención arbitral.
3. There is an evil place in the middle of Ganjo: Moeka Haruhi vs. Andras Miyagi – finalizó con Double Count Out (2:15).
3a. Moeka Haruhi vs. Andras Miyagi – finalizó con Double Count Out (9:21).
4. Is it pro-wrestling from the textbook? Imanari's dreamer Believe S-Road: Shinjiro Otani  venció a Yumehito Imanari (15:10) con una Spiral Bomb.
5. Ganbare Pro vs Sento Minzoku ~ Fate Reunion! Ohka and Isami!: Ken Ohka, Shuichiro Katsumura y Shota derrotaron a Isami Kodama, Ryuichi Sekine y Daiki Shimomura (15:06) con un Vertical-Drop Brainbuster de Ohka sobre Shimomura.
6. Ganbare Pro vs Sento Minzoku ~ Fortress of Ganpro: Minoru Fujita venció a Keisuke Ishii (17:07) con un Modified Samson Clutch.