La empresa femenina Stardom se declara lista para su torneo «Goddesses of Stardom 2019«, su competencia anual de parejas.
Ésta se desarrollará del 12 de octubre al 15 de noviembre con la participación de 12 equipos divididos en dos grupos: el Grupo Red y el Grupo Blue. Serán ocho jornadas de competencia, dos de ellas dobles.
La dupla vencedora tendrá derecho a retar a Jungle Kyona y Konami del TCS, actuales poseedoras del Campeonato Goddesses of Stardom, quienes también verán actividad en la competencia.
Será en el Shin-Kiba 1st RING de Tokio donde arranquen las acciones de éste torneo; mientras que la gran final se efectuará en el Legend Hall de Nagoya.
– Goddesses of Stardom Tag League 2019 – Participantes
Grupo Red Goddess:
– Mayu Iwatani y Saki Kashima
– Momo Watanabe y AZM
– Hazuki y Natsuko Tora
– Bea Priestley y Jamie Hayter
– Riho y Starlight Kid
– Jungle Kyona y Konami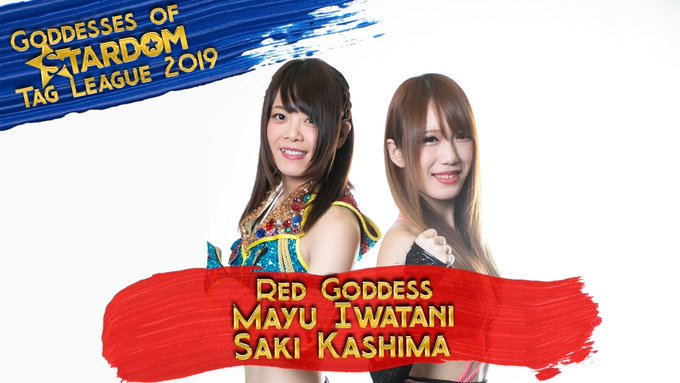 Grupo Blue Goddess:
– Hana Kimura & DEATH Yama-san
– Arisa Hoshiki & Tam Nakano
– Kagetsu & Andras Miyagi
– Saya Iida & Saya Kamitani
– Sumire Natsu & «Session Moth» Martina
– Bobbi Tyler & Zoe Lucas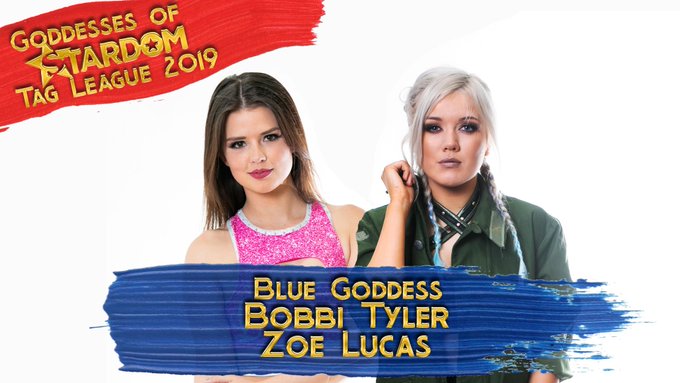 – Goddesses of Stardom Tag League 2019 – Calendario de encuentros
Stardom, 12.10.2019
Shin-Kiba 1st RING
– Goddesses of Stardom Tag League – Blue Block: Hana Kimura & DEATH Yama-san vs. Saya Iida & Saya Kamitani
– Goddesses of Stardom Tag League – Blue Block: Arisa Hoshiki & Tam Nakano vs. Kagetsu & Andras Miyagi
– Goddesses of Stardom Tag League – Red Block: Hazuki & Natsuko Tora vs. Bea Priestley & Jamie Hayter
Stardom «STARDOM WORLD CHAMPIONS WARS 2019», 14.10.2019
Tokyo Korakuen Hall
1. Tam Nakano vs. Saya Kamitani
2. Gauntlet Tag Match: Hazuki & Natsuko Tora vs. Andras Miyagi & Jamie Hayter vs. Konami & DEATH Yama-san vs. Starlight Kid & Saya Iida vs. Leo Onozaki & Hina
3. Goddesses of Stardom Tag League – Blue Block: Sumire Natsu & «Session Moth» Martina vs. Bobbi Tyler & Zoe Lucas
4. Goddesses of Stardom Tag League – Red Block: Mayu Iwatani & Saki Kashima vs. Momo Watanabe & AZM
5. Wonder of Stardom Title: Arisa Hoshiki (c) vs. Kagetsu
6. World of Stardom Title: Bea Priestley (c) vs. Hana Kimura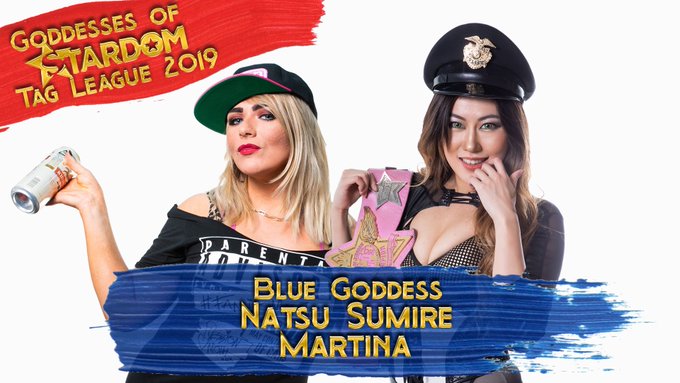 Stardom, 19.10.2019 (Día)
Osaka World Hall
– Goddesses of Stardom Tag League – Blue Block: Saya Iida & Saya Kamitani vs. Bobbi Tyler & Zoe Lucas
– Goddesses of Stardom Tag League – Red Block: Riho & Starlight Kid vs. Hazuki & Natsuko Tora
– Goddesses of Stardom Tag League – Red Block: Jungle Kyona & Konami vs. Mayu Iwatani & Saki Kashima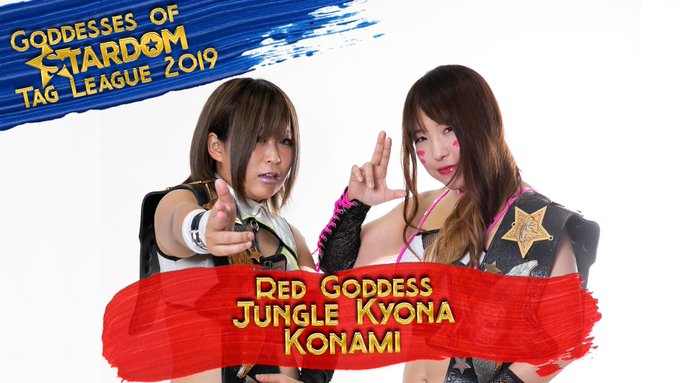 Stardom, 19.10.2019 (Tarde)
Osaka World Hall
– Goddesses of Stardom Tag League – Red Block: Mayu Iwatani & Saki Kashima vs. Riho & Starlight Kid
– Goddesses of Stardom Tag League – Red Block: Momo Watanabe & AZM vs. Bea Priestley & Jamie Hayter
– Goddesses of Stardom Tag League – Blue Block: Hana Kimura & DEATH Yama-san vs. Bobbi Tyler & Zoe Lucas
– Goddesses of Stardom Tag League – Blue Block: Kagetsu & Andras Miyagi vs. Sumire Natsu & «Session Moth» Martina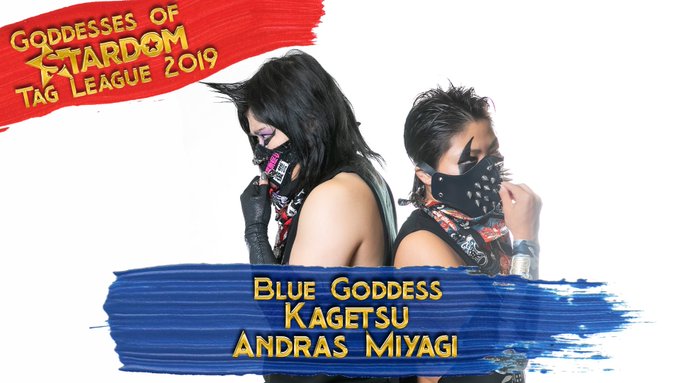 Stardom «OKAYAMA PRO-WRESTLING FESTIVAL», 20.10.2019
Okayama City Nadasai Bunka Center
– Goddesses of Stardom Tag League – Red Block: Riho & Starlight Kid vs. Bea Priestley & Jamie Hayter
– Goddesses of Stardom Tag League – Blue Block: Arisa Hoshiki & Tam Nakano vs. Bobbi Tyler & Zoe Lucas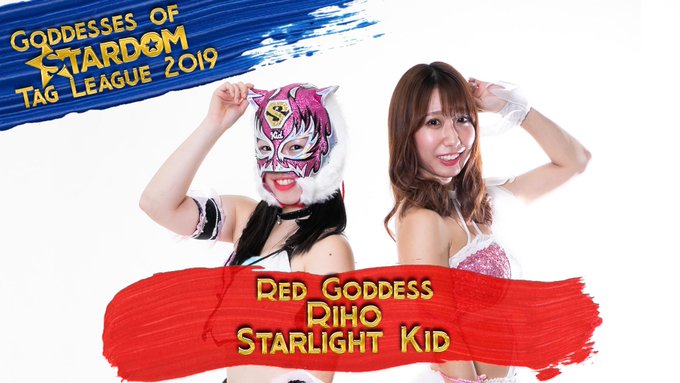 Stardom, 27.10.2019
Shin-Kiba 1st RING
– Goddesses of Stardom Tag League – Red Block: Jungle Kyona & Konami vs. Riho & Starlight Kid
– Goddesses of Stardom Tag League – Blue Block: Arisa Hoshiki & Tam Nakano vs. Saya Iida & Saya Kamitani
– Goddesses of Stardom Tag League – Blue Block: Kagetsu & Andras Miyagi vs. Hana Kimura & DEATH Yama-san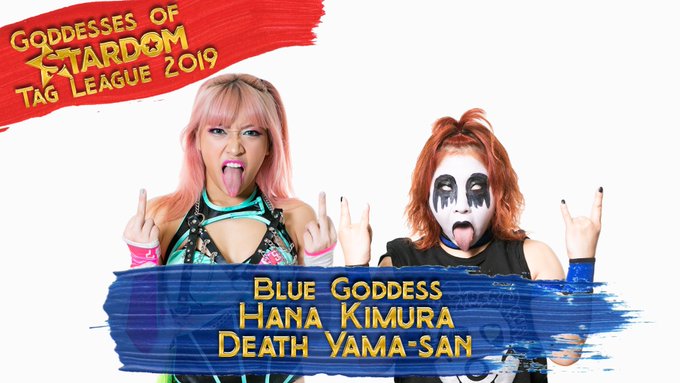 Stardom «STARDOM BEST OF GODDESS 2019», 04.11.2019
Tokyo Korakuen Hall
– Goddesses of Stardom Tag League – Blue Block: Kagetsu & Andras Miyagi vs. Saya Iida & Saya Kamitani
– Goddesses of Stardom Tag League – Red Block: Jungle Kyona & Konami vs. Hazuki & Natsuko Tora
– Goddesses of Stardom Tag League – Red Block: Riho & Starlight Kid vs. Momo Watanabe & AZM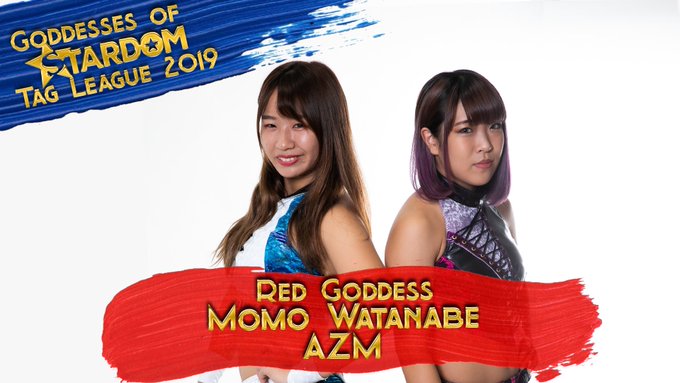 Stardom, 09.11.2019 (Día)
Osaka World Hall
– Goddesses of Stardom Tag League – Red Block: Mayu Iwatani & Saki Kashima vs. Hazuki & Natsuko Tora
– Goddesses of Stardom Tag League – Blue Block: Arisa Hoshiki & Tam Nakano vs. Sumire Natsu & «Session Moth» Martina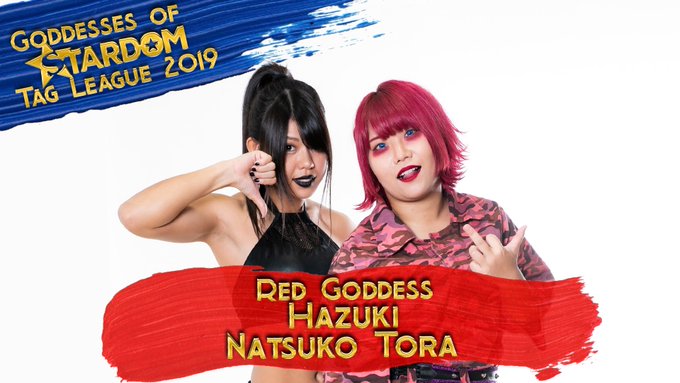 Stardom, 09.11.2019 (Tarde)
Osaka World Hall
– Goddesses of Stardom Tag League – Red Block: Momo Watanabe & AZM vs. Hazuki & Natsuko Tora
– Goddesses of Stardom Tag League – Blue Block: Hana Kimura & DEATH Yama-san vs. Sumire Natsu & «Session Moth» Martina
– Goddesses of Stardom Tag League – Red Block: Jungle Kyona & Konami vs. Bea Priestley & Jamie Hayter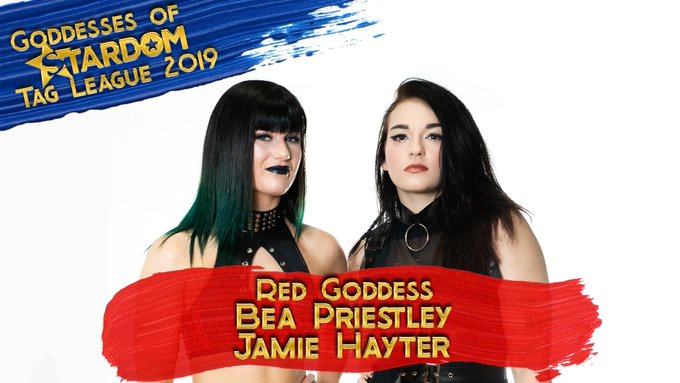 Stardom, 15.11.2019
Nagoya Legend Hall
– Goddesses of Stardom Tag League – Blue Block: Saya Iida & Saya Kamitani vs. Sumire Natsu & «Session Moth» Martina
– Goddesses of Stardom Tag League – Blue Block: Kagetsu & Andras Miyagi vs. Bobbi Tyler & Zoe Lucas
– Goddesses of Stardom Tag League – Blue Block: Arisa Hoshiki & Tam Nakano vs. Hana Kimura & DEATH Yama-san
– Goddesses of Stardom Tag League – Red Block: Jungle Kyona & Konami vs. Momo Watanabe & AZM
– Goddesses of Stardom Tag League – Red Block: Mayu Iwatani & Saki Kashima vs. Bea Priestley & Jamie Hayter