En una breve discusión de Twitter, Sasha Banks dijo que ella y Bayley eran mejores que Le Sex Gods. Esto debido a que el pasado miércoles, la lucha de las Campeonas de Parejas WWE contra Tegan Nox y Shotzi Blackheart en NXT superó en audiencia a la lucha de Chris Jericho y Sammy Guevara (Le Sex Gods) contra The Best Friends en AEW Dynamite.
Hasta ahí todo bien, aunque muchos habrán criticado que Guevara respondiera comparando a Sasha con Ricochet.
Why's Trevor tweeting about me from a different account? https://t.co/2A29e3yBhb pic.twitter.com/FChdgHU6nY

— sammy guevara (@sammyguevara) 21 de junio de 2020
"¿Por qué está Trevor tuiteando desde una cuenta diferente?"
ACTUALIZACIÓN: El tuit anterior ya fue borrado por Guevara. Aquí está una captura:
Pero si bien el comentario a lo mucho está fuera de lugar, ahora ha salido a la luz otro comentario de Guevara que sí podría traerle problemas.
► Sammy Guevara dice que quiere violar a Sasha Banks
En 2016, Guevara tenía 22 años y ya llevaba tres luchando en el circuito independiente. Todavía no llegaba a AAA, y su mayor logró era un dark match con WWE en 2015 en el que él y Tony Guevara fueron vencidos por Los Matadores.
El 25 de enero de ese año, Guevara apareció en el podcast The Whole F'N Show, y en él habló de una visita que hizo días antes al Performance Center de WWE, donde se encontró a Sasha Banks. Quedó impactado por la chica, y no la comparó con Ricochet. Pero con lo que dijo, habría sido mejor que la comparara con Ricochet.
So apparently @sammyguevara didn't just compare a black woman to a black man because he thought that's a funny insult he also said this about Sasha when he was an extra couple years ago for WWE
Great job @TonyKhan 👍🏽👏🏽 keep putting him on national television and pushing him too pic.twitter.com/HIZ1HVG14p

— Abdulmalik (@97Abdulmalik) June 22, 2020
"Hermano, Sasha Banks... ¡Dios mío! Cuando estuve en WWE la otra semana, sólo quería ir y violar a esa mujer".
En aquella ocasión, Guevara fue llamado para aparecer como extra en algún programa de WWE. Y aparentemente estaba muy desubicado.
Por las mismas fechas fue cuando coqueteó con Brandi Rhodes, quien laboraba como anunciadora en la compañía McMahon. Aunque Brandi se ofendió, con el tiempo eso fue dejado pasar, y en la actualidad la actitud de Guevara hacia Brandi ha sido usada como recurso de rudo.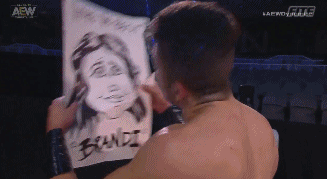 Guevara está programado este miércoles para enfrentar en mano a mano a Matt Hardy.
This Wednesday on Dynamite - It's the #SpanishGod @sammyguevara vs. @MATTHARDYBRAND!

Watch #AEWDynamite every Wednesday night on @TNTDrama 8e/7c or https://t.co/GdI7QAsxEP for our International fans. #AEWonTNT @AEWonTNT pic.twitter.com/lJOCHYSc83

— All Elite Wrestling (@AEWrestling) June 21, 2020