Notice
: Undefined offset: 1 in
/www/superluchas_744/public/wp-includes/media.php
on line
764
Notice
: Undefined offset: 1 in
/www/superluchas_744/public/wp-includes/media.php
on line
766
Notice
: Undefined offset: 1 in
/www/superluchas_744/public/wp-includes/media.php
on line
769
Notice
: Undefined offset: 1 in
/www/superluchas_744/public/wp-includes/media.php
on line
764
Notice
: Undefined offset: 1 in
/www/superluchas_744/public/wp-includes/media.php
on line
766
Notice
: Undefined offset: 1 in
/www/superluchas_744/public/wp-includes/media.php
on line
769
Notice
: Undefined offset: 1 in
/www/superluchas_744/public/wp-includes/media.php
on line
764
Notice
: Undefined offset: 1 in
/www/superluchas_744/public/wp-includes/media.php
on line
766
Notice
: Undefined offset: 1 in
/www/superluchas_744/public/wp-includes/media.php
on line
769
Notice
: Undefined offset: 1 in
/www/superluchas_744/public/wp-includes/media.php
on line
70
Notice
: Undefined offset: 1 in
/www/superluchas_744/public/wp-includes/media.php
on line
764
Notice
: Undefined offset: 1 in
/www/superluchas_744/public/wp-includes/media.php
on line
766
Notice
: Undefined offset: 1 in
/www/superluchas_744/public/wp-includes/media.php
on line
769
Notice
: Undefined offset: 1 in
/www/superluchas_744/public/wp-includes/media.php
on line
764
Notice
: Undefined offset: 1 in
/www/superluchas_744/public/wp-includes/media.php
on line
766
Notice
: Undefined offset: 1 in
/www/superluchas_744/public/wp-includes/media.php
on line
769
Notice
: Undefined offset: 1 in
/www/superluchas_744/public/wp-includes/media.php
on line
764
Notice
: Undefined offset: 1 in
/www/superluchas_744/public/wp-includes/media.php
on line
766
Notice
: Undefined offset: 1 in
/www/superluchas_744/public/wp-includes/media.php
on line
769
Notice
: Undefined offset: 1 in
/www/superluchas_744/public/wp-includes/media.php
on line
70
Notice
: Undefined offset: 1 in
/www/superluchas_744/public/wp-includes/media.php
on line
764
Notice
: Undefined offset: 1 in
/www/superluchas_744/public/wp-includes/media.php
on line
766
Notice
: Undefined offset: 1 in
/www/superluchas_744/public/wp-includes/media.php
on line
769
Notice
: Undefined offset: 1 in
/www/superluchas_744/public/wp-includes/media.php
on line
764
Notice
: Undefined offset: 1 in
/www/superluchas_744/public/wp-includes/media.php
on line
766
Notice
: Undefined offset: 1 in
/www/superluchas_744/public/wp-includes/media.php
on line
769
Notice
: Undefined offset: 1 in
/www/superluchas_744/public/wp-includes/media.php
on line
764
Notice
: Undefined offset: 1 in
/www/superluchas_744/public/wp-includes/media.php
on line
766
Notice
: Undefined offset: 1 in
/www/superluchas_744/public/wp-includes/media.php
on line
769
Notice
: Undefined offset: 1 in
/www/superluchas_744/public/wp-includes/media.php
on line
70
Notice
: Undefined offset: 1 in
/www/superluchas_744/public/wp-includes/media.php
on line
764
Notice
: Undefined offset: 1 in
/www/superluchas_744/public/wp-includes/media.php
on line
766
Notice
: Undefined offset: 1 in
/www/superluchas_744/public/wp-includes/media.php
on line
769
Notice
: Undefined offset: 1 in
/www/superluchas_744/public/wp-includes/media.php
on line
764
Notice
: Undefined offset: 1 in
/www/superluchas_744/public/wp-includes/media.php
on line
766
Notice
: Undefined offset: 1 in
/www/superluchas_744/public/wp-includes/media.php
on line
769
Notice
: Undefined offset: 1 in
/www/superluchas_744/public/wp-includes/media.php
on line
764
Notice
: Undefined offset: 1 in
/www/superluchas_744/public/wp-includes/media.php
on line
766
Notice
: Undefined offset: 1 in
/www/superluchas_744/public/wp-includes/media.php
on line
769
Notice
: Undefined offset: 1 in
/www/superluchas_744/public/wp-includes/media.php
on line
70
Notice
: Undefined offset: 1 in
/www/superluchas_744/public/wp-includes/media.php
on line
764
Notice
: Undefined offset: 1 in
/www/superluchas_744/public/wp-includes/media.php
on line
766
Notice
: Undefined offset: 1 in
/www/superluchas_744/public/wp-includes/media.php
on line
769
Notice
: Undefined offset: 1 in
/www/superluchas_744/public/wp-includes/media.php
on line
764
Notice
: Undefined offset: 1 in
/www/superluchas_744/public/wp-includes/media.php
on line
766
Notice
: Undefined offset: 1 in
/www/superluchas_744/public/wp-includes/media.php
on line
769
Notice
: Undefined offset: 1 in
/www/superluchas_744/public/wp-includes/media.php
on line
764
Notice
: Undefined offset: 1 in
/www/superluchas_744/public/wp-includes/media.php
on line
766
Notice
: Undefined offset: 1 in
/www/superluchas_744/public/wp-includes/media.php
on line
769
Notice
: Undefined offset: 1 in
/www/superluchas_744/public/wp-includes/media.php
on line
70
Notice
: Undefined offset: 1 in
/www/superluchas_744/public/wp-includes/media.php
on line
764
Notice
: Undefined offset: 1 in
/www/superluchas_744/public/wp-includes/media.php
on line
766
Notice
: Undefined offset: 1 in
/www/superluchas_744/public/wp-includes/media.php
on line
769
Notice
: Undefined offset: 1 in
/www/superluchas_744/public/wp-includes/media.php
on line
764
Notice
: Undefined offset: 1 in
/www/superluchas_744/public/wp-includes/media.php
on line
766
Notice
: Undefined offset: 1 in
/www/superluchas_744/public/wp-includes/media.php
on line
769
Notice
: Undefined offset: 1 in
/www/superluchas_744/public/wp-includes/media.php
on line
764
Notice
: Undefined offset: 1 in
/www/superluchas_744/public/wp-includes/media.php
on line
766
Notice
: Undefined offset: 1 in
/www/superluchas_744/public/wp-includes/media.php
on line
769
Notice
: Undefined offset: 1 in
/www/superluchas_744/public/wp-includes/media.php
on line
70
Notice
: Undefined offset: 1 in
/www/superluchas_744/public/wp-includes/media.php
on line
764
Notice
: Undefined offset: 1 in
/www/superluchas_744/public/wp-includes/media.php
on line
766
Notice
: Undefined offset: 1 in
/www/superluchas_744/public/wp-includes/media.php
on line
769
Notice
: Undefined offset: 1 in
/www/superluchas_744/public/wp-includes/media.php
on line
764
Notice
: Undefined offset: 1 in
/www/superluchas_744/public/wp-includes/media.php
on line
766
Notice
: Undefined offset: 1 in
/www/superluchas_744/public/wp-includes/media.php
on line
769
Notice
: Undefined offset: 1 in
/www/superluchas_744/public/wp-includes/media.php
on line
764
Notice
: Undefined offset: 1 in
/www/superluchas_744/public/wp-includes/media.php
on line
766
Notice
: Undefined offset: 1 in
/www/superluchas_744/public/wp-includes/media.php
on line
769
Notice
: Undefined offset: 1 in
/www/superluchas_744/public/wp-includes/media.php
on line
70
Notice
: Undefined offset: 1 in
/www/superluchas_744/public/wp-includes/media.php
on line
764
Notice
: Undefined offset: 1 in
/www/superluchas_744/public/wp-includes/media.php
on line
766
Notice
: Undefined offset: 1 in
/www/superluchas_744/public/wp-includes/media.php
on line
769
Notice
: Undefined offset: 1 in
/www/superluchas_744/public/wp-includes/media.php
on line
764
Notice
: Undefined offset: 1 in
/www/superluchas_744/public/wp-includes/media.php
on line
766
Notice
: Undefined offset: 1 in
/www/superluchas_744/public/wp-includes/media.php
on line
769
Notice
: Undefined offset: 1 in
/www/superluchas_744/public/wp-includes/media.php
on line
764
Notice
: Undefined offset: 1 in
/www/superluchas_744/public/wp-includes/media.php
on line
766
Notice
: Undefined offset: 1 in
/www/superluchas_744/public/wp-includes/media.php
on line
769
Notice
: Undefined offset: 1 in
/www/superluchas_744/public/wp-includes/media.php
on line
70
Notice
: Undefined offset: 1 in
/www/superluchas_744/public/wp-includes/media.php
on line
764
Notice
: Undefined offset: 1 in
/www/superluchas_744/public/wp-includes/media.php
on line
766
Notice
: Undefined offset: 1 in
/www/superluchas_744/public/wp-includes/media.php
on line
769
Notice
: Undefined offset: 1 in
/www/superluchas_744/public/wp-includes/media.php
on line
764
Notice
: Undefined offset: 1 in
/www/superluchas_744/public/wp-includes/media.php
on line
766
Notice
: Undefined offset: 1 in
/www/superluchas_744/public/wp-includes/media.php
on line
769
Notice
: Undefined offset: 1 in
/www/superluchas_744/public/wp-includes/media.php
on line
764
Notice
: Undefined offset: 1 in
/www/superluchas_744/public/wp-includes/media.php
on line
766
Notice
: Undefined offset: 1 in
/www/superluchas_744/public/wp-includes/media.php
on line
769
Notice
: Undefined offset: 1 in
/www/superluchas_744/public/wp-includes/media.php
on line
70
Notice
: Undefined offset: 1 in
/www/superluchas_744/public/wp-includes/media.php
on line
764
Notice
: Undefined offset: 1 in
/www/superluchas_744/public/wp-includes/media.php
on line
766
Notice
: Undefined offset: 1 in
/www/superluchas_744/public/wp-includes/media.php
on line
769
Notice
: Undefined offset: 1 in
/www/superluchas_744/public/wp-includes/media.php
on line
764
Notice
: Undefined offset: 1 in
/www/superluchas_744/public/wp-includes/media.php
on line
766
Notice
: Undefined offset: 1 in
/www/superluchas_744/public/wp-includes/media.php
on line
769
Notice
: Undefined offset: 1 in
/www/superluchas_744/public/wp-includes/media.php
on line
764
Notice
: Undefined offset: 1 in
/www/superluchas_744/public/wp-includes/media.php
on line
766
Notice
: Undefined offset: 1 in
/www/superluchas_744/public/wp-includes/media.php
on line
769
Notice
: Undefined offset: 1 in
/www/superluchas_744/public/wp-includes/media.php
on line
70
Notice
: Undefined offset: 1 in
/www/superluchas_744/public/wp-includes/media.php
on line
764
Notice
: Undefined offset: 1 in
/www/superluchas_744/public/wp-includes/media.php
on line
766
Notice
: Undefined offset: 1 in
/www/superluchas_744/public/wp-includes/media.php
on line
769
Notice
: Undefined offset: 1 in
/www/superluchas_744/public/wp-includes/media.php
on line
764
Notice
: Undefined offset: 1 in
/www/superluchas_744/public/wp-includes/media.php
on line
766
Notice
: Undefined offset: 1 in
/www/superluchas_744/public/wp-includes/media.php
on line
769
Notice
: Undefined offset: 1 in
/www/superluchas_744/public/wp-includes/media.php
on line
764
Notice
: Undefined offset: 1 in
/www/superluchas_744/public/wp-includes/media.php
on line
766
Notice
: Undefined offset: 1 in
/www/superluchas_744/public/wp-includes/media.php
on line
769
Notice
: Undefined offset: 1 in
/www/superluchas_744/public/wp-includes/media.php
on line
70
Notice
: Undefined offset: 1 in
/www/superluchas_744/public/wp-includes/media.php
on line
764
Notice
: Undefined offset: 1 in
/www/superluchas_744/public/wp-includes/media.php
on line
766
Notice
: Undefined offset: 1 in
/www/superluchas_744/public/wp-includes/media.php
on line
769
Notice
: Undefined offset: 1 in
/www/superluchas_744/public/wp-includes/media.php
on line
764
Notice
: Undefined offset: 1 in
/www/superluchas_744/public/wp-includes/media.php
on line
766
Notice
: Undefined offset: 1 in
/www/superluchas_744/public/wp-includes/media.php
on line
769
Notice
: Undefined offset: 1 in
/www/superluchas_744/public/wp-includes/media.php
on line
764
Notice
: Undefined offset: 1 in
/www/superluchas_744/public/wp-includes/media.php
on line
766
Notice
: Undefined offset: 1 in
/www/superluchas_744/public/wp-includes/media.php
on line
769
Notice
: Undefined offset: 1 in
/www/superluchas_744/public/wp-includes/media.php
on line
70
Notice
: Undefined offset: 1 in
/www/superluchas_744/public/wp-includes/media.php
on line
764
Notice
: Undefined offset: 1 in
/www/superluchas_744/public/wp-includes/media.php
on line
766
Notice
: Undefined offset: 1 in
/www/superluchas_744/public/wp-includes/media.php
on line
769
Notice
: Undefined offset: 1 in
/www/superluchas_744/public/wp-includes/media.php
on line
764
Notice
: Undefined offset: 1 in
/www/superluchas_744/public/wp-includes/media.php
on line
766
Notice
: Undefined offset: 1 in
/www/superluchas_744/public/wp-includes/media.php
on line
769
Notice
: Undefined offset: 1 in
/www/superluchas_744/public/wp-includes/media.php
on line
764
Notice
: Undefined offset: 1 in
/www/superluchas_744/public/wp-includes/media.php
on line
766
Notice
: Undefined offset: 1 in
/www/superluchas_744/public/wp-includes/media.php
on line
769
Notice
: Undefined offset: 1 in
/www/superluchas_744/public/wp-includes/media.php
on line
70
Notice
: Undefined offset: 1 in
/www/superluchas_744/public/wp-includes/media.php
on line
764
Notice
: Undefined offset: 1 in
/www/superluchas_744/public/wp-includes/media.php
on line
766
Notice
: Undefined offset: 1 in
/www/superluchas_744/public/wp-includes/media.php
on line
769
Notice
: Undefined offset: 1 in
/www/superluchas_744/public/wp-includes/media.php
on line
764
Notice
: Undefined offset: 1 in
/www/superluchas_744/public/wp-includes/media.php
on line
766
Notice
: Undefined offset: 1 in
/www/superluchas_744/public/wp-includes/media.php
on line
769
Notice
: Undefined offset: 1 in
/www/superluchas_744/public/wp-includes/media.php
on line
764
Notice
: Undefined offset: 1 in
/www/superluchas_744/public/wp-includes/media.php
on line
766
Notice
: Undefined offset: 1 in
/www/superluchas_744/public/wp-includes/media.php
on line
769
Notice
: Undefined offset: 1 in
/www/superluchas_744/public/wp-includes/media.php
on line
70
Notice
: Undefined offset: 1 in
/www/superluchas_744/public/wp-includes/media.php
on line
764
Notice
: Undefined offset: 1 in
/www/superluchas_744/public/wp-includes/media.php
on line
766
Notice
: Undefined offset: 1 in
/www/superluchas_744/public/wp-includes/media.php
on line
769
Notice
: Undefined offset: 1 in
/www/superluchas_744/public/wp-includes/media.php
on line
764
Notice
: Undefined offset: 1 in
/www/superluchas_744/public/wp-includes/media.php
on line
766
Notice
: Undefined offset: 1 in
/www/superluchas_744/public/wp-includes/media.php
on line
769
Notice
: Undefined offset: 1 in
/www/superluchas_744/public/wp-includes/media.php
on line
764
Notice
: Undefined offset: 1 in
/www/superluchas_744/public/wp-includes/media.php
on line
766
Notice
: Undefined offset: 1 in
/www/superluchas_744/public/wp-includes/media.php
on line
769
Notice
: Undefined offset: 1 in
/www/superluchas_744/public/wp-includes/media.php
on line
70
Notice
: Undefined offset: 1 in
/www/superluchas_744/public/wp-includes/media.php
on line
764
Notice
: Undefined offset: 1 in
/www/superluchas_744/public/wp-includes/media.php
on line
766
Notice
: Undefined offset: 1 in
/www/superluchas_744/public/wp-includes/media.php
on line
769
Notice
: Undefined offset: 1 in
/www/superluchas_744/public/wp-includes/media.php
on line
764
Notice
: Undefined offset: 1 in
/www/superluchas_744/public/wp-includes/media.php
on line
766
Notice
: Undefined offset: 1 in
/www/superluchas_744/public/wp-includes/media.php
on line
769
Notice
: Undefined offset: 1 in
/www/superluchas_744/public/wp-includes/media.php
on line
764
Notice
: Undefined offset: 1 in
/www/superluchas_744/public/wp-includes/media.php
on line
766
Notice
: Undefined offset: 1 in
/www/superluchas_744/public/wp-includes/media.php
on line
769
Notice
: Undefined offset: 1 in
/www/superluchas_744/public/wp-includes/media.php
on line
70
Notice
: Undefined offset: 1 in
/www/superluchas_744/public/wp-includes/media.php
on line
764
Notice
: Undefined offset: 1 in
/www/superluchas_744/public/wp-includes/media.php
on line
766
Notice
: Undefined offset: 1 in
/www/superluchas_744/public/wp-includes/media.php
on line
769
Notice
: Undefined offset: 1 in
/www/superluchas_744/public/wp-includes/media.php
on line
764
Notice
: Undefined offset: 1 in
/www/superluchas_744/public/wp-includes/media.php
on line
766
Notice
: Undefined offset: 1 in
/www/superluchas_744/public/wp-includes/media.php
on line
769
Notice
: Undefined offset: 1 in
/www/superluchas_744/public/wp-includes/media.php
on line
764
Notice
: Undefined offset: 1 in
/www/superluchas_744/public/wp-includes/media.php
on line
766
Notice
: Undefined offset: 1 in
/www/superluchas_744/public/wp-includes/media.php
on line
769
Notice
: Undefined offset: 1 in
/www/superluchas_744/public/wp-includes/media.php
on line
70
Notice
: Undefined offset: 1 in
/www/superluchas_744/public/wp-includes/media.php
on line
764
Notice
: Undefined offset: 1 in
/www/superluchas_744/public/wp-includes/media.php
on line
766
Notice
: Undefined offset: 1 in
/www/superluchas_744/public/wp-includes/media.php
on line
769
Notice
: Undefined offset: 1 in
/www/superluchas_744/public/wp-includes/media.php
on line
764
Notice
: Undefined offset: 1 in
/www/superluchas_744/public/wp-includes/media.php
on line
766
Notice
: Undefined offset: 1 in
/www/superluchas_744/public/wp-includes/media.php
on line
769
Notice
: Undefined offset: 1 in
/www/superluchas_744/public/wp-includes/media.php
on line
764
Notice
: Undefined offset: 1 in
/www/superluchas_744/public/wp-includes/media.php
on line
766
Notice
: Undefined offset: 1 in
/www/superluchas_744/public/wp-includes/media.php
on line
769
Notice
: Undefined offset: 1 in
/www/superluchas_744/public/wp-includes/media.php
on line
70
Notice
: Undefined offset: 1 in
/www/superluchas_744/public/wp-includes/media.php
on line
764
Notice
: Undefined offset: 1 in
/www/superluchas_744/public/wp-includes/media.php
on line
766
Notice
: Undefined offset: 1 in
/www/superluchas_744/public/wp-includes/media.php
on line
769
Notice
: Undefined offset: 1 in
/www/superluchas_744/public/wp-includes/media.php
on line
764
Notice
: Undefined offset: 1 in
/www/superluchas_744/public/wp-includes/media.php
on line
766
Notice
: Undefined offset: 1 in
/www/superluchas_744/public/wp-includes/media.php
on line
769
Notice
: Undefined offset: 1 in
/www/superluchas_744/public/wp-includes/media.php
on line
764
Notice
: Undefined offset: 1 in
/www/superluchas_744/public/wp-includes/media.php
on line
766
Notice
: Undefined offset: 1 in
/www/superluchas_744/public/wp-includes/media.php
on line
769
Notice
: Undefined offset: 1 in
/www/superluchas_744/public/wp-includes/media.php
on line
70
Notice
: Undefined offset: 1 in
/www/superluchas_744/public/wp-includes/media.php
on line
764
Notice
: Undefined offset: 1 in
/www/superluchas_744/public/wp-includes/media.php
on line
766
Notice
: Undefined offset: 1 in
/www/superluchas_744/public/wp-includes/media.php
on line
769
Notice
: Undefined offset: 1 in
/www/superluchas_744/public/wp-includes/media.php
on line
764
Notice
: Undefined offset: 1 in
/www/superluchas_744/public/wp-includes/media.php
on line
766
Notice
: Undefined offset: 1 in
/www/superluchas_744/public/wp-includes/media.php
on line
769
Notice
: Undefined offset: 1 in
/www/superluchas_744/public/wp-includes/media.php
on line
764
Notice
: Undefined offset: 1 in
/www/superluchas_744/public/wp-includes/media.php
on line
766
Notice
: Undefined offset: 1 in
/www/superluchas_744/public/wp-includes/media.php
on line
769
Notice
: Undefined offset: 1 in
/www/superluchas_744/public/wp-includes/media.php
on line
70
Notice
: Undefined offset: 1 in
/www/superluchas_744/public/wp-includes/media.php
on line
764
Notice
: Undefined offset: 1 in
/www/superluchas_744/public/wp-includes/media.php
on line
766
Notice
: Undefined offset: 1 in
/www/superluchas_744/public/wp-includes/media.php
on line
769
Notice
: Undefined offset: 1 in
/www/superluchas_744/public/wp-includes/media.php
on line
764
Notice
: Undefined offset: 1 in
/www/superluchas_744/public/wp-includes/media.php
on line
766
Notice
: Undefined offset: 1 in
/www/superluchas_744/public/wp-includes/media.php
on line
769
Notice
: Undefined offset: 1 in
/www/superluchas_744/public/wp-includes/media.php
on line
764
Notice
: Undefined offset: 1 in
/www/superluchas_744/public/wp-includes/media.php
on line
766
Notice
: Undefined offset: 1 in
/www/superluchas_744/public/wp-includes/media.php
on line
769
Notice
: Undefined offset: 1 in
/www/superluchas_744/public/wp-includes/media.php
on line
70
Notice
: Undefined offset: 1 in
/www/superluchas_744/public/wp-includes/media.php
on line
764
Notice
: Undefined offset: 1 in
/www/superluchas_744/public/wp-includes/media.php
on line
766
Notice
: Undefined offset: 1 in
/www/superluchas_744/public/wp-includes/media.php
on line
769
Notice
: Undefined offset: 1 in
/www/superluchas_744/public/wp-includes/media.php
on line
764
Notice
: Undefined offset: 1 in
/www/superluchas_744/public/wp-includes/media.php
on line
766
Notice
: Undefined offset: 1 in
/www/superluchas_744/public/wp-includes/media.php
on line
769
Notice
: Undefined offset: 1 in
/www/superluchas_744/public/wp-includes/media.php
on line
764
Notice
: Undefined offset: 1 in
/www/superluchas_744/public/wp-includes/media.php
on line
766
Notice
: Undefined offset: 1 in
/www/superluchas_744/public/wp-includes/media.php
on line
769
Notice
: Undefined offset: 1 in
/www/superluchas_744/public/wp-includes/media.php
on line
70
Notice
: Undefined offset: 1 in
/www/superluchas_744/public/wp-includes/media.php
on line
764
Notice
: Undefined offset: 1 in
/www/superluchas_744/public/wp-includes/media.php
on line
766
Notice
: Undefined offset: 1 in
/www/superluchas_744/public/wp-includes/media.php
on line
769
Notice
: Undefined offset: 1 in
/www/superluchas_744/public/wp-includes/media.php
on line
764
Notice
: Undefined offset: 1 in
/www/superluchas_744/public/wp-includes/media.php
on line
766
Notice
: Undefined offset: 1 in
/www/superluchas_744/public/wp-includes/media.php
on line
769
Notice
: Undefined offset: 1 in
/www/superluchas_744/public/wp-includes/media.php
on line
764
Notice
: Undefined offset: 1 in
/www/superluchas_744/public/wp-includes/media.php
on line
766
Notice
: Undefined offset: 1 in
/www/superluchas_744/public/wp-includes/media.php
on line
769
Notice
: Undefined offset: 1 in
/www/superluchas_744/public/wp-includes/media.php
on line
70
Notice
: Undefined offset: 1 in
/www/superluchas_744/public/wp-includes/media.php
on line
764
Notice
: Undefined offset: 1 in
/www/superluchas_744/public/wp-includes/media.php
on line
766
Notice
: Undefined offset: 1 in
/www/superluchas_744/public/wp-includes/media.php
on line
769
Notice
: Undefined offset: 1 in
/www/superluchas_744/public/wp-includes/media.php
on line
764
Notice
: Undefined offset: 1 in
/www/superluchas_744/public/wp-includes/media.php
on line
766
Notice
: Undefined offset: 1 in
/www/superluchas_744/public/wp-includes/media.php
on line
769
Notice
: Undefined offset: 1 in
/www/superluchas_744/public/wp-includes/media.php
on line
764
Notice
: Undefined offset: 1 in
/www/superluchas_744/public/wp-includes/media.php
on line
766
Notice
: Undefined offset: 1 in
/www/superluchas_744/public/wp-includes/media.php
on line
769
Notice
: Undefined offset: 1 in
/www/superluchas_744/public/wp-includes/media.php
on line
70
Notice
: Undefined offset: 1 in
/www/superluchas_744/public/wp-includes/media.php
on line
764
Notice
: Undefined offset: 1 in
/www/superluchas_744/public/wp-includes/media.php
on line
766
Notice
: Undefined offset: 1 in
/www/superluchas_744/public/wp-includes/media.php
on line
769
Notice
: Undefined offset: 1 in
/www/superluchas_744/public/wp-includes/media.php
on line
764
Notice
: Undefined offset: 1 in
/www/superluchas_744/public/wp-includes/media.php
on line
766
Notice
: Undefined offset: 1 in
/www/superluchas_744/public/wp-includes/media.php
on line
769
Notice
: Undefined offset: 1 in
/www/superluchas_744/public/wp-includes/media.php
on line
764
Notice
: Undefined offset: 1 in
/www/superluchas_744/public/wp-includes/media.php
on line
766
Notice
: Undefined offset: 1 in
/www/superluchas_744/public/wp-includes/media.php
on line
769
Notice
: Undefined offset: 1 in
/www/superluchas_744/public/wp-includes/media.php
on line
70
Notice
: Undefined offset: 1 in
/www/superluchas_744/public/wp-includes/media.php
on line
764
Notice
: Undefined offset: 1 in
/www/superluchas_744/public/wp-includes/media.php
on line
766
Notice
: Undefined offset: 1 in
/www/superluchas_744/public/wp-includes/media.php
on line
769
Notice
: Undefined offset: 1 in
/www/superluchas_744/public/wp-includes/media.php
on line
764
Notice
: Undefined offset: 1 in
/www/superluchas_744/public/wp-includes/media.php
on line
766
Notice
: Undefined offset: 1 in
/www/superluchas_744/public/wp-includes/media.php
on line
769
Notice
: Undefined offset: 1 in
/www/superluchas_744/public/wp-includes/media.php
on line
764
Notice
: Undefined offset: 1 in
/www/superluchas_744/public/wp-includes/media.php
on line
766
Notice
: Undefined offset: 1 in
/www/superluchas_744/public/wp-includes/media.php
on line
769
Notice
: Undefined offset: 1 in
/www/superluchas_744/public/wp-includes/media.php
on line
70
Notice
: Undefined offset: 1 in
/www/superluchas_744/public/wp-includes/media.php
on line
764
Notice
: Undefined offset: 1 in
/www/superluchas_744/public/wp-includes/media.php
on line
766
Notice
: Undefined offset: 1 in
/www/superluchas_744/public/wp-includes/media.php
on line
769
Notice
: Undefined offset: 1 in
/www/superluchas_744/public/wp-includes/media.php
on line
764
Notice
: Undefined offset: 1 in
/www/superluchas_744/public/wp-includes/media.php
on line
766
Notice
: Undefined offset: 1 in
/www/superluchas_744/public/wp-includes/media.php
on line
769
Notice
: Undefined offset: 1 in
/www/superluchas_744/public/wp-includes/media.php
on line
764
Notice
: Undefined offset: 1 in
/www/superluchas_744/public/wp-includes/media.php
on line
766
Notice
: Undefined offset: 1 in
/www/superluchas_744/public/wp-includes/media.php
on line
769
Notice
: Undefined offset: 1 in
/www/superluchas_744/public/wp-includes/media.php
on line
70
Notice
: Undefined offset: 1 in
/www/superluchas_744/public/wp-includes/media.php
on line
764
Notice
: Undefined offset: 1 in
/www/superluchas_744/public/wp-includes/media.php
on line
766
Notice
: Undefined offset: 1 in
/www/superluchas_744/public/wp-includes/media.php
on line
769
Notice
: Undefined offset: 1 in
/www/superluchas_744/public/wp-includes/media.php
on line
764
Notice
: Undefined offset: 1 in
/www/superluchas_744/public/wp-includes/media.php
on line
766
Notice
: Undefined offset: 1 in
/www/superluchas_744/public/wp-includes/media.php
on line
769
Notice
: Undefined offset: 1 in
/www/superluchas_744/public/wp-includes/media.php
on line
764
Notice
: Undefined offset: 1 in
/www/superluchas_744/public/wp-includes/media.php
on line
766
Notice
: Undefined offset: 1 in
/www/superluchas_744/public/wp-includes/media.php
on line
769
Notice
: Undefined offset: 1 in
/www/superluchas_744/public/wp-includes/media.php
on line
70
Notice
: Undefined offset: 1 in
/www/superluchas_744/public/wp-includes/media.php
on line
764
Notice
: Undefined offset: 1 in
/www/superluchas_744/public/wp-includes/media.php
on line
766
Notice
: Undefined offset: 1 in
/www/superluchas_744/public/wp-includes/media.php
on line
769
Notice
: Undefined offset: 1 in
/www/superluchas_744/public/wp-includes/media.php
on line
764
Notice
: Undefined offset: 1 in
/www/superluchas_744/public/wp-includes/media.php
on line
766
Notice
: Undefined offset: 1 in
/www/superluchas_744/public/wp-includes/media.php
on line
769
Notice
: Undefined offset: 1 in
/www/superluchas_744/public/wp-includes/media.php
on line
764
Notice
: Undefined offset: 1 in
/www/superluchas_744/public/wp-includes/media.php
on line
766
Notice
: Undefined offset: 1 in
/www/superluchas_744/public/wp-includes/media.php
on line
769
Notice
: Undefined offset: 1 in
/www/superluchas_744/public/wp-includes/media.php
on line
70
Notice
: Undefined offset: 1 in
/www/superluchas_744/public/wp-includes/media.php
on line
764
Notice
: Undefined offset: 1 in
/www/superluchas_744/public/wp-includes/media.php
on line
766
Notice
: Undefined offset: 1 in
/www/superluchas_744/public/wp-includes/media.php
on line
769
Notice
: Undefined offset: 1 in
/www/superluchas_744/public/wp-includes/media.php
on line
764
Notice
: Undefined offset: 1 in
/www/superluchas_744/public/wp-includes/media.php
on line
766
Notice
: Undefined offset: 1 in
/www/superluchas_744/public/wp-includes/media.php
on line
769
Notice
: Undefined offset: 1 in
/www/superluchas_744/public/wp-includes/media.php
on line
764
Notice
: Undefined offset: 1 in
/www/superluchas_744/public/wp-includes/media.php
on line
766
Notice
: Undefined offset: 1 in
/www/superluchas_744/public/wp-includes/media.php
on line
769
Notice
: Undefined offset: 1 in
/www/superluchas_744/public/wp-includes/media.php
on line
70
Notice
: Undefined offset: 1 in
/www/superluchas_744/public/wp-includes/media.php
on line
764
Notice
: Undefined offset: 1 in
/www/superluchas_744/public/wp-includes/media.php
on line
766
Notice
: Undefined offset: 1 in
/www/superluchas_744/public/wp-includes/media.php
on line
769
Notice
: Undefined offset: 1 in
/www/superluchas_744/public/wp-includes/media.php
on line
764
Notice
: Undefined offset: 1 in
/www/superluchas_744/public/wp-includes/media.php
on line
766
Notice
: Undefined offset: 1 in
/www/superluchas_744/public/wp-includes/media.php
on line
769
Notice
: Undefined offset: 1 in
/www/superluchas_744/public/wp-includes/media.php
on line
764
Notice
: Undefined offset: 1 in
/www/superluchas_744/public/wp-includes/media.php
on line
766
Notice
: Undefined offset: 1 in
/www/superluchas_744/public/wp-includes/media.php
on line
769
Notice
: Undefined offset: 1 in
/www/superluchas_744/public/wp-includes/media.php
on line
70
Notice
: Undefined offset: 1 in
/www/superluchas_744/public/wp-includes/media.php
on line
764
Notice
: Undefined offset: 1 in
/www/superluchas_744/public/wp-includes/media.php
on line
766
Notice
: Undefined offset: 1 in
/www/superluchas_744/public/wp-includes/media.php
on line
769
Notice
: Undefined offset: 1 in
/www/superluchas_744/public/wp-includes/media.php
on line
764
Notice
: Undefined offset: 1 in
/www/superluchas_744/public/wp-includes/media.php
on line
766
Notice
: Undefined offset: 1 in
/www/superluchas_744/public/wp-includes/media.php
on line
769
Notice
: Undefined offset: 1 in
/www/superluchas_744/public/wp-includes/media.php
on line
764
Notice
: Undefined offset: 1 in
/www/superluchas_744/public/wp-includes/media.php
on line
766
Notice
: Undefined offset: 1 in
/www/superluchas_744/public/wp-includes/media.php
on line
769
Notice
: Undefined offset: 1 in
/www/superluchas_744/public/wp-includes/media.php
on line
70
Notice
: Undefined offset: 1 in
/www/superluchas_744/public/wp-includes/media.php
on line
764
Notice
: Undefined offset: 1 in
/www/superluchas_744/public/wp-includes/media.php
on line
766
Notice
: Undefined offset: 1 in
/www/superluchas_744/public/wp-includes/media.php
on line
769
Notice
: Undefined offset: 1 in
/www/superluchas_744/public/wp-includes/media.php
on line
764
Notice
: Undefined offset: 1 in
/www/superluchas_744/public/wp-includes/media.php
on line
766
Notice
: Undefined offset: 1 in
/www/superluchas_744/public/wp-includes/media.php
on line
769
Notice
: Undefined offset: 1 in
/www/superluchas_744/public/wp-includes/media.php
on line
764
Notice
: Undefined offset: 1 in
/www/superluchas_744/public/wp-includes/media.php
on line
766
Notice
: Undefined offset: 1 in
/www/superluchas_744/public/wp-includes/media.php
on line
769
Notice
: Undefined offset: 1 in
/www/superluchas_744/public/wp-includes/media.php
on line
70
Notice
: Undefined offset: 1 in
/www/superluchas_744/public/wp-includes/media.php
on line
764
Notice
: Undefined offset: 1 in
/www/superluchas_744/public/wp-includes/media.php
on line
766
Notice
: Undefined offset: 1 in
/www/superluchas_744/public/wp-includes/media.php
on line
769
Notice
: Undefined offset: 1 in
/www/superluchas_744/public/wp-includes/media.php
on line
764
Notice
: Undefined offset: 1 in
/www/superluchas_744/public/wp-includes/media.php
on line
766
Notice
: Undefined offset: 1 in
/www/superluchas_744/public/wp-includes/media.php
on line
769
Notice
: Undefined offset: 1 in
/www/superluchas_744/public/wp-includes/media.php
on line
764
Notice
: Undefined offset: 1 in
/www/superluchas_744/public/wp-includes/media.php
on line
766
Notice
: Undefined offset: 1 in
/www/superluchas_744/public/wp-includes/media.php
on line
769
Notice
: Undefined offset: 1 in
/www/superluchas_744/public/wp-includes/media.php
on line
70
Notice
: Undefined offset: 1 in
/www/superluchas_744/public/wp-includes/media.php
on line
764
Notice
: Undefined offset: 1 in
/www/superluchas_744/public/wp-includes/media.php
on line
766
Notice
: Undefined offset: 1 in
/www/superluchas_744/public/wp-includes/media.php
on line
769
Notice
: Undefined offset: 1 in
/www/superluchas_744/public/wp-includes/media.php
on line
764
Notice
: Undefined offset: 1 in
/www/superluchas_744/public/wp-includes/media.php
on line
766
Notice
: Undefined offset: 1 in
/www/superluchas_744/public/wp-includes/media.php
on line
769
Notice
: Undefined offset: 1 in
/www/superluchas_744/public/wp-includes/media.php
on line
764
Notice
: Undefined offset: 1 in
/www/superluchas_744/public/wp-includes/media.php
on line
766
Notice
: Undefined offset: 1 in
/www/superluchas_744/public/wp-includes/media.php
on line
769
Notice
: Undefined offset: 1 in
/www/superluchas_744/public/wp-includes/media.php
on line
70
Notice
: Undefined offset: 1 in
/www/superluchas_744/public/wp-includes/media.php
on line
764
Notice
: Undefined offset: 1 in
/www/superluchas_744/public/wp-includes/media.php
on line
766
Notice
: Undefined offset: 1 in
/www/superluchas_744/public/wp-includes/media.php
on line
769
Notice
: Undefined offset: 1 in
/www/superluchas_744/public/wp-includes/media.php
on line
764
Notice
: Undefined offset: 1 in
/www/superluchas_744/public/wp-includes/media.php
on line
766
Notice
: Undefined offset: 1 in
/www/superluchas_744/public/wp-includes/media.php
on line
769
Notice
: Undefined offset: 1 in
/www/superluchas_744/public/wp-includes/media.php
on line
764
Notice
: Undefined offset: 1 in
/www/superluchas_744/public/wp-includes/media.php
on line
766
Notice
: Undefined offset: 1 in
/www/superluchas_744/public/wp-includes/media.php
on line
769
Notice
: Undefined offset: 1 in
/www/superluchas_744/public/wp-includes/media.php
on line
70
Notice
: Undefined offset: 1 in
/www/superluchas_744/public/wp-includes/media.php
on line
764
Notice
: Undefined offset: 1 in
/www/superluchas_744/public/wp-includes/media.php
on line
766
Notice
: Undefined offset: 1 in
/www/superluchas_744/public/wp-includes/media.php
on line
769
Notice
: Undefined offset: 1 in
/www/superluchas_744/public/wp-includes/media.php
on line
764
Notice
: Undefined offset: 1 in
/www/superluchas_744/public/wp-includes/media.php
on line
766
Notice
: Undefined offset: 1 in
/www/superluchas_744/public/wp-includes/media.php
on line
769
Notice
: Undefined offset: 1 in
/www/superluchas_744/public/wp-includes/media.php
on line
764
Notice
: Undefined offset: 1 in
/www/superluchas_744/public/wp-includes/media.php
on line
766
Notice
: Undefined offset: 1 in
/www/superluchas_744/public/wp-includes/media.php
on line
769
Notice
: Undefined offset: 1 in
/www/superluchas_744/public/wp-includes/media.php
on line
70
Notice
: Undefined offset: 1 in
/www/superluchas_744/public/wp-includes/media.php
on line
764
Notice
: Undefined offset: 1 in
/www/superluchas_744/public/wp-includes/media.php
on line
766
Notice
: Undefined offset: 1 in
/www/superluchas_744/public/wp-includes/media.php
on line
769
Notice
: Undefined offset: 1 in
/www/superluchas_744/public/wp-includes/media.php
on line
764
Notice
: Undefined offset: 1 in
/www/superluchas_744/public/wp-includes/media.php
on line
766
Notice
: Undefined offset: 1 in
/www/superluchas_744/public/wp-includes/media.php
on line
769
Notice
: Undefined offset: 1 in
/www/superluchas_744/public/wp-includes/media.php
on line
764
Notice
: Undefined offset: 1 in
/www/superluchas_744/public/wp-includes/media.php
on line
766
Notice
: Undefined offset: 1 in
/www/superluchas_744/public/wp-includes/media.php
on line
769
Notice
: Undefined offset: 1 in
/www/superluchas_744/public/wp-includes/media.php
on line
70
Notice
: Undefined offset: 1 in
/www/superluchas_744/public/wp-includes/media.php
on line
764
Notice
: Undefined offset: 1 in
/www/superluchas_744/public/wp-includes/media.php
on line
766
Notice
: Undefined offset: 1 in
/www/superluchas_744/public/wp-includes/media.php
on line
769
Notice
: Undefined offset: 1 in
/www/superluchas_744/public/wp-includes/media.php
on line
764
Notice
: Undefined offset: 1 in
/www/superluchas_744/public/wp-includes/media.php
on line
766
Notice
: Undefined offset: 1 in
/www/superluchas_744/public/wp-includes/media.php
on line
769
Notice
: Undefined offset: 1 in
/www/superluchas_744/public/wp-includes/media.php
on line
764
Notice
: Undefined offset: 1 in
/www/superluchas_744/public/wp-includes/media.php
on line
766
Notice
: Undefined offset: 1 in
/www/superluchas_744/public/wp-includes/media.php
on line
769
Notice
: Undefined offset: 1 in
/www/superluchas_744/public/wp-includes/media.php
on line
70
Notice
: Undefined offset: 1 in
/www/superluchas_744/public/wp-includes/media.php
on line
764
Notice
: Undefined offset: 1 in
/www/superluchas_744/public/wp-includes/media.php
on line
766
Notice
: Undefined offset: 1 in
/www/superluchas_744/public/wp-includes/media.php
on line
769
Notice
: Undefined offset: 1 in
/www/superluchas_744/public/wp-includes/media.php
on line
764
Notice
: Undefined offset: 1 in
/www/superluchas_744/public/wp-includes/media.php
on line
766
Notice
: Undefined offset: 1 in
/www/superluchas_744/public/wp-includes/media.php
on line
769
Notice
: Undefined offset: 1 in
/www/superluchas_744/public/wp-includes/media.php
on line
764
Notice
: Undefined offset: 1 in
/www/superluchas_744/public/wp-includes/media.php
on line
766
Notice
: Undefined offset: 1 in
/www/superluchas_744/public/wp-includes/media.php
on line
769
Notice
: Undefined offset: 1 in
/www/superluchas_744/public/wp-includes/media.php
on line
70
Notice
: Undefined offset: 1 in
/www/superluchas_744/public/wp-includes/media.php
on line
764
Notice
: Undefined offset: 1 in
/www/superluchas_744/public/wp-includes/media.php
on line
766
Notice
: Undefined offset: 1 in
/www/superluchas_744/public/wp-includes/media.php
on line
769
Notice
: Undefined offset: 1 in
/www/superluchas_744/public/wp-includes/media.php
on line
764
Notice
: Undefined offset: 1 in
/www/superluchas_744/public/wp-includes/media.php
on line
766
Notice
: Undefined offset: 1 in
/www/superluchas_744/public/wp-includes/media.php
on line
769
Notice
: Undefined offset: 1 in
/www/superluchas_744/public/wp-includes/media.php
on line
764
Notice
: Undefined offset: 1 in
/www/superluchas_744/public/wp-includes/media.php
on line
766
Notice
: Undefined offset: 1 in
/www/superluchas_744/public/wp-includes/media.php
on line
769
Notice
: Undefined offset: 1 in
/www/superluchas_744/public/wp-includes/media.php
on line
70
Notice
: Undefined offset: 1 in
/www/superluchas_744/public/wp-includes/media.php
on line
764
Notice
: Undefined offset: 1 in
/www/superluchas_744/public/wp-includes/media.php
on line
766
Notice
: Undefined offset: 1 in
/www/superluchas_744/public/wp-includes/media.php
on line
769
Notice
: Undefined offset: 1 in
/www/superluchas_744/public/wp-includes/media.php
on line
764
Notice
: Undefined offset: 1 in
/www/superluchas_744/public/wp-includes/media.php
on line
766
Notice
: Undefined offset: 1 in
/www/superluchas_744/public/wp-includes/media.php
on line
769
Notice
: Undefined offset: 1 in
/www/superluchas_744/public/wp-includes/media.php
on line
764
Notice
: Undefined offset: 1 in
/www/superluchas_744/public/wp-includes/media.php
on line
766
Notice
: Undefined offset: 1 in
/www/superluchas_744/public/wp-includes/media.php
on line
769
Notice
: Undefined offset: 1 in
/www/superluchas_744/public/wp-includes/media.php
on line
70
Notice
: Undefined offset: 1 in
/www/superluchas_744/public/wp-includes/media.php
on line
764
Notice
: Undefined offset: 1 in
/www/superluchas_744/public/wp-includes/media.php
on line
766
Notice
: Undefined offset: 1 in
/www/superluchas_744/public/wp-includes/media.php
on line
769
Notice
: Undefined offset: 1 in
/www/superluchas_744/public/wp-includes/media.php
on line
764
Notice
: Undefined offset: 1 in
/www/superluchas_744/public/wp-includes/media.php
on line
766
Notice
: Undefined offset: 1 in
/www/superluchas_744/public/wp-includes/media.php
on line
769
Notice
: Undefined offset: 1 in
/www/superluchas_744/public/wp-includes/media.php
on line
764
Notice
: Undefined offset: 1 in
/www/superluchas_744/public/wp-includes/media.php
on line
766
Notice
: Undefined offset: 1 in
/www/superluchas_744/public/wp-includes/media.php
on line
769
Notice
: Undefined offset: 1 in
/www/superluchas_744/public/wp-includes/media.php
on line
70
Notice
: Undefined offset: 1 in
/www/superluchas_744/public/wp-includes/media.php
on line
764
Notice
: Undefined offset: 1 in
/www/superluchas_744/public/wp-includes/media.php
on line
766
Notice
: Undefined offset: 1 in
/www/superluchas_744/public/wp-includes/media.php
on line
769
Notice
: Undefined offset: 1 in
/www/superluchas_744/public/wp-includes/media.php
on line
764
Notice
: Undefined offset: 1 in
/www/superluchas_744/public/wp-includes/media.php
on line
766
Notice
: Undefined offset: 1 in
/www/superluchas_744/public/wp-includes/media.php
on line
769
Notice
: Undefined offset: 1 in
/www/superluchas_744/public/wp-includes/media.php
on line
764
Notice
: Undefined offset: 1 in
/www/superluchas_744/public/wp-includes/media.php
on line
766
Notice
: Undefined offset: 1 in
/www/superluchas_744/public/wp-includes/media.php
on line
769
Notice
: Undefined offset: 1 in
/www/superluchas_744/public/wp-includes/media.php
on line
70
Notice
: Undefined offset: 1 in
/www/superluchas_744/public/wp-includes/media.php
on line
764
Notice
: Undefined offset: 1 in
/www/superluchas_744/public/wp-includes/media.php
on line
766
Notice
: Undefined offset: 1 in
/www/superluchas_744/public/wp-includes/media.php
on line
769
Notice
: Undefined offset: 1 in
/www/superluchas_744/public/wp-includes/media.php
on line
764
Notice
: Undefined offset: 1 in
/www/superluchas_744/public/wp-includes/media.php
on line
766
Notice
: Undefined offset: 1 in
/www/superluchas_744/public/wp-includes/media.php
on line
769
Notice
: Undefined offset: 1 in
/www/superluchas_744/public/wp-includes/media.php
on line
764
Notice
: Undefined offset: 1 in
/www/superluchas_744/public/wp-includes/media.php
on line
766
Notice
: Undefined offset: 1 in
/www/superluchas_744/public/wp-includes/media.php
on line
769
Notice
: Undefined offset: 1 in
/www/superluchas_744/public/wp-includes/media.php
on line
70
Notice
: Undefined offset: 1 in
/www/superluchas_744/public/wp-includes/media.php
on line
764
Notice
: Undefined offset: 1 in
/www/superluchas_744/public/wp-includes/media.php
on line
766
Notice
: Undefined offset: 1 in
/www/superluchas_744/public/wp-includes/media.php
on line
769
Notice
: Undefined offset: 1 in
/www/superluchas_744/public/wp-includes/media.php
on line
764
Notice
: Undefined offset: 1 in
/www/superluchas_744/public/wp-includes/media.php
on line
766
Notice
: Undefined offset: 1 in
/www/superluchas_744/public/wp-includes/media.php
on line
769
Notice
: Undefined offset: 1 in
/www/superluchas_744/public/wp-includes/media.php
on line
764
Notice
: Undefined offset: 1 in
/www/superluchas_744/public/wp-includes/media.php
on line
766
Notice
: Undefined offset: 1 in
/www/superluchas_744/public/wp-includes/media.php
on line
769
Notice
: Undefined offset: 1 in
/www/superluchas_744/public/wp-includes/media.php
on line
70
Notice
: Undefined offset: 1 in
/www/superluchas_744/public/wp-includes/media.php
on line
764
Notice
: Undefined offset: 1 in
/www/superluchas_744/public/wp-includes/media.php
on line
766
Notice
: Undefined offset: 1 in
/www/superluchas_744/public/wp-includes/media.php
on line
769
Notice
: Undefined offset: 1 in
/www/superluchas_744/public/wp-includes/media.php
on line
764
Notice
: Undefined offset: 1 in
/www/superluchas_744/public/wp-includes/media.php
on line
766
Notice
: Undefined offset: 1 in
/www/superluchas_744/public/wp-includes/media.php
on line
769
Notice
: Undefined offset: 1 in
/www/superluchas_744/public/wp-includes/media.php
on line
764
Notice
: Undefined offset: 1 in
/www/superluchas_744/public/wp-includes/media.php
on line
766
Notice
: Undefined offset: 1 in
/www/superluchas_744/public/wp-includes/media.php
on line
769
Notice
: Undefined offset: 1 in
/www/superluchas_744/public/wp-includes/media.php
on line
70
Notice
: Undefined offset: 1 in
/www/superluchas_744/public/wp-includes/media.php
on line
764
Notice
: Undefined offset: 1 in
/www/superluchas_744/public/wp-includes/media.php
on line
766
Notice
: Undefined offset: 1 in
/www/superluchas_744/public/wp-includes/media.php
on line
769
Notice
: Undefined offset: 1 in
/www/superluchas_744/public/wp-includes/media.php
on line
764
Notice
: Undefined offset: 1 in
/www/superluchas_744/public/wp-includes/media.php
on line
766
Notice
: Undefined offset: 1 in
/www/superluchas_744/public/wp-includes/media.php
on line
769
Notice
: Undefined offset: 1 in
/www/superluchas_744/public/wp-includes/media.php
on line
764
Notice
: Undefined offset: 1 in
/www/superluchas_744/public/wp-includes/media.php
on line
766
Notice
: Undefined offset: 1 in
/www/superluchas_744/public/wp-includes/media.php
on line
769
Notice
: Undefined offset: 1 in
/www/superluchas_744/public/wp-includes/media.php
on line
70
Notice
: Undefined offset: 1 in
/www/superluchas_744/public/wp-includes/media.php
on line
764
Notice
: Undefined offset: 1 in
/www/superluchas_744/public/wp-includes/media.php
on line
766
Notice
: Undefined offset: 1 in
/www/superluchas_744/public/wp-includes/media.php
on line
769
Notice
: Undefined offset: 1 in
/www/superluchas_744/public/wp-includes/media.php
on line
764
Notice
: Undefined offset: 1 in
/www/superluchas_744/public/wp-includes/media.php
on line
766
Notice
: Undefined offset: 1 in
/www/superluchas_744/public/wp-includes/media.php
on line
769
Notice
: Undefined offset: 1 in
/www/superluchas_744/public/wp-includes/media.php
on line
764
Notice
: Undefined offset: 1 in
/www/superluchas_744/public/wp-includes/media.php
on line
766
Notice
: Undefined offset: 1 in
/www/superluchas_744/public/wp-includes/media.php
on line
769
Notice
: Undefined offset: 1 in
/www/superluchas_744/public/wp-includes/media.php
on line
70
Notice
: Undefined offset: 1 in
/www/superluchas_744/public/wp-includes/media.php
on line
764
Notice
: Undefined offset: 1 in
/www/superluchas_744/public/wp-includes/media.php
on line
766
Notice
: Undefined offset: 1 in
/www/superluchas_744/public/wp-includes/media.php
on line
769
Notice
: Undefined offset: 1 in
/www/superluchas_744/public/wp-includes/media.php
on line
764
Notice
: Undefined offset: 1 in
/www/superluchas_744/public/wp-includes/media.php
on line
766
Notice
: Undefined offset: 1 in
/www/superluchas_744/public/wp-includes/media.php
on line
769
Notice
: Undefined offset: 1 in
/www/superluchas_744/public/wp-includes/media.php
on line
764
Notice
: Undefined offset: 1 in
/www/superluchas_744/public/wp-includes/media.php
on line
766
Notice
: Undefined offset: 1 in
/www/superluchas_744/public/wp-includes/media.php
on line
769
Notice
: Undefined offset: 1 in
/www/superluchas_744/public/wp-includes/media.php
on line
70
Notice
: Undefined offset: 1 in
/www/superluchas_744/public/wp-includes/media.php
on line
764
Notice
: Undefined offset: 1 in
/www/superluchas_744/public/wp-includes/media.php
on line
766
Notice
: Undefined offset: 1 in
/www/superluchas_744/public/wp-includes/media.php
on line
769
Notice
: Undefined offset: 1 in
/www/superluchas_744/public/wp-includes/media.php
on line
764
Notice
: Undefined offset: 1 in
/www/superluchas_744/public/wp-includes/media.php
on line
766
Notice
: Undefined offset: 1 in
/www/superluchas_744/public/wp-includes/media.php
on line
769
Notice
: Undefined offset: 1 in
/www/superluchas_744/public/wp-includes/media.php
on line
764
Notice
: Undefined offset: 1 in
/www/superluchas_744/public/wp-includes/media.php
on line
766
Notice
: Undefined offset: 1 in
/www/superluchas_744/public/wp-includes/media.php
on line
769
Notice
: Undefined offset: 1 in
/www/superluchas_744/public/wp-includes/media.php
on line
70
Notice
: Undefined offset: 1 in
/www/superluchas_744/public/wp-includes/media.php
on line
764
Notice
: Undefined offset: 1 in
/www/superluchas_744/public/wp-includes/media.php
on line
766
Notice
: Undefined offset: 1 in
/www/superluchas_744/public/wp-includes/media.php
on line
769
Notice
: Undefined offset: 1 in
/www/superluchas_744/public/wp-includes/media.php
on line
764
Notice
: Undefined offset: 1 in
/www/superluchas_744/public/wp-includes/media.php
on line
766
Notice
: Undefined offset: 1 in
/www/superluchas_744/public/wp-includes/media.php
on line
769
Notice
: Undefined offset: 1 in
/www/superluchas_744/public/wp-includes/media.php
on line
764
Notice
: Undefined offset: 1 in
/www/superluchas_744/public/wp-includes/media.php
on line
766
Notice
: Undefined offset: 1 in
/www/superluchas_744/public/wp-includes/media.php
on line
769
Notice
: Undefined offset: 1 in
/www/superluchas_744/public/wp-includes/media.php
on line
70
Notice
: Undefined offset: 1 in
/www/superluchas_744/public/wp-includes/media.php
on line
764
Notice
: Undefined offset: 1 in
/www/superluchas_744/public/wp-includes/media.php
on line
766
Notice
: Undefined offset: 1 in
/www/superluchas_744/public/wp-includes/media.php
on line
769
Notice
: Undefined offset: 1 in
/www/superluchas_744/public/wp-includes/media.php
on line
764
Notice
: Undefined offset: 1 in
/www/superluchas_744/public/wp-includes/media.php
on line
766
Notice
: Undefined offset: 1 in
/www/superluchas_744/public/wp-includes/media.php
on line
769
Notice
: Undefined offset: 1 in
/www/superluchas_744/public/wp-includes/media.php
on line
764
Notice
: Undefined offset: 1 in
/www/superluchas_744/public/wp-includes/media.php
on line
766
Notice
: Undefined offset: 1 in
/www/superluchas_744/public/wp-includes/media.php
on line
769
Notice
: Undefined offset: 1 in
/www/superluchas_744/public/wp-includes/media.php
on line
70
Notice
: Undefined offset: 1 in
/www/superluchas_744/public/wp-includes/media.php
on line
764
Notice
: Undefined offset: 1 in
/www/superluchas_744/public/wp-includes/media.php
on line
766
Notice
: Undefined offset: 1 in
/www/superluchas_744/public/wp-includes/media.php
on line
769
Notice
: Undefined offset: 1 in
/www/superluchas_744/public/wp-includes/media.php
on line
764
Notice
: Undefined offset: 1 in
/www/superluchas_744/public/wp-includes/media.php
on line
766
Notice
: Undefined offset: 1 in
/www/superluchas_744/public/wp-includes/media.php
on line
769
Notice
: Undefined offset: 1 in
/www/superluchas_744/public/wp-includes/media.php
on line
764
Notice
: Undefined offset: 1 in
/www/superluchas_744/public/wp-includes/media.php
on line
766
Notice
: Undefined offset: 1 in
/www/superluchas_744/public/wp-includes/media.php
on line
769
Notice
: Undefined offset: 1 in
/www/superluchas_744/public/wp-includes/media.php
on line
70
Notice
: Undefined offset: 1 in
/www/superluchas_744/public/wp-includes/media.php
on line
764
Notice
: Undefined offset: 1 in
/www/superluchas_744/public/wp-includes/media.php
on line
766
Notice
: Undefined offset: 1 in
/www/superluchas_744/public/wp-includes/media.php
on line
769
Notice
: Undefined offset: 1 in
/www/superluchas_744/public/wp-includes/media.php
on line
764
Notice
: Undefined offset: 1 in
/www/superluchas_744/public/wp-includes/media.php
on line
766
Notice
: Undefined offset: 1 in
/www/superluchas_744/public/wp-includes/media.php
on line
769
Notice
: Undefined offset: 1 in
/www/superluchas_744/public/wp-includes/media.php
on line
764
Notice
: Undefined offset: 1 in
/www/superluchas_744/public/wp-includes/media.php
on line
766
Notice
: Undefined offset: 1 in
/www/superluchas_744/public/wp-includes/media.php
on line
769
Notice
: Undefined offset: 1 in
/www/superluchas_744/public/wp-includes/media.php
on line
70
Notice
: Undefined offset: 1 in
/www/superluchas_744/public/wp-includes/media.php
on line
764
Notice
: Undefined offset: 1 in
/www/superluchas_744/public/wp-includes/media.php
on line
766
Notice
: Undefined offset: 1 in
/www/superluchas_744/public/wp-includes/media.php
on line
769
Notice
: Undefined offset: 1 in
/www/superluchas_744/public/wp-includes/media.php
on line
764
Notice
: Undefined offset: 1 in
/www/superluchas_744/public/wp-includes/media.php
on line
766
Notice
: Undefined offset: 1 in
/www/superluchas_744/public/wp-includes/media.php
on line
769
Notice
: Undefined offset: 1 in
/www/superluchas_744/public/wp-includes/media.php
on line
764
Notice
: Undefined offset: 1 in
/www/superluchas_744/public/wp-includes/media.php
on line
766
Notice
: Undefined offset: 1 in
/www/superluchas_744/public/wp-includes/media.php
on line
769
Notice
: Undefined offset: 1 in
/www/superluchas_744/public/wp-includes/media.php
on line
70
Las repercusiones de Elimination Chamber continuarán hoy en SmackDown Live. Daniel Bryan buscará un nuevo rival para defender el Campeonato WWE en Fastlane. The Miz tratará de ganarse el perdón de Shane McMahon por haber perdido el Campeonato de Parejas de la marca ante The Usos. Y por otra parte, Becky Lynch escribirá un nuevo capítulo en su odisea a WrestleMania. Todo desde el Smoothie King Center de Nueva Orleans.
Ver también: Resultados Elimination Chamber (17-02-19) — Dieciocho al patíbulo
Ver también: Resultados Monday Night Raw (18-02-19) — Bayley y Sasha, campeonas
Arranca SmackDown Live
El programa inicia con un recorrido por lo que fue la Cámara de Eliminación Varonil, donde Kofi Kingston fue el gran protagonista cuando fue el último hombre de pie ante Daniel Bryan.
Shane McMahon está en el cuadrilátero,  anuncia que el evento estelar del show será AJ Styles, Kingston y Jeff Hardy vs. Randy Orton, Samoa Joe y Bryan. Además felicita a los talentos de NXT que debutaron ayer en Raw.
Interrumpe The Miz, quien le insiste a McMahon que pacte la defensa contra los Usos. El público aprueba con una ovación.
Pero interrumpen los Usos, quienes dicen que, en caso de que Shane perdone a Miz, les darán la revancha.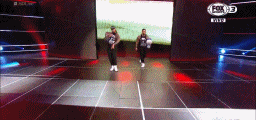 Luego de un intercambio de insultos, McMahon confirma que la revancha será en Fastlane, en Cleveland, Ohio, pueblo natal del Miz.
Hay un corte comercial, pero antes, aparece Aleister Black.
Luego del corte se confirma que su oponente será Andrade.
1- Aleister Black vs. Andrade 
La lucha comienza con un intercambio de llaves.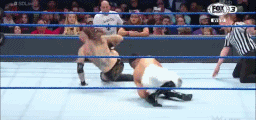 Luego Andrade intercepta a Black con un machetazo, todo ante la mirada de Tommaso Ciampa y Johnny Gargano.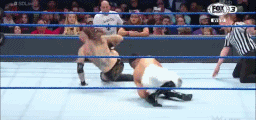 Tras un corte comercial, Andrade empuja a Black afuera del ring.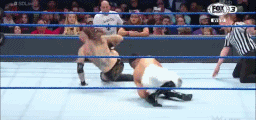 Pero Black se recompone y ataca al mexicano con un unos rodillazos desde el esquinero.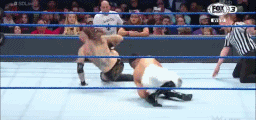 Andrade intenta rematar a Black con un DDT modificado, pero su rival contraataca con un Black Mass y se lleva la victoria. El público ovaciona a los competidores.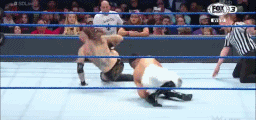 Luego de la lucha entrevistan a Gargano y Ciampa, quienes recuerdan su mano a mano en TakeOver: New Orleans. Pero Sheamus y Cesaro los interrumpen, diciéndoles que ellos no son nadie. 
Hay un segmento entre Kingston, Hardy y Styles, donde el integrante de New Day insiste en dejar atrás las diferencias generadas en Elimination Chamber.
2- The Bar vs. Gargano y Ciampa
La lucha comienza con Sheamus y Ciampa forcejeando.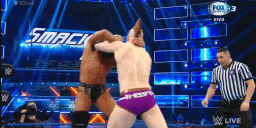 A pesar de la reacción que tienen los provenientes de NXT, ni Sheamus ni Cesaro se los toman en serio, lo que hace que el irlandés se descuide y sea golpeado con una brutal patada.
El caos reina en el cuadrilátero y el equipo de los campeones saca a sus rivales del encordado.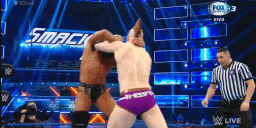 Seguido de un tope suicida de Gargano.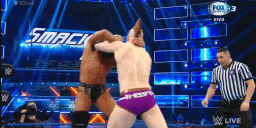 Luego de un corte comercial Cesaro sorprende con un antebrazo europeo y le da el relevo a Sheamus.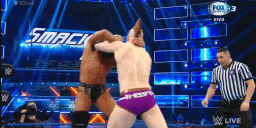 Aunque Ciampa logra equilibrar la contienda falla al aplicar un powerbomb con salto de rana y se lastima la pierna.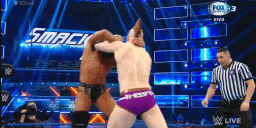 Ahora Gargano tiene a Cesaro sometido con un Gargano Escape.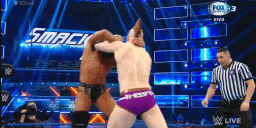 Pero Cesaro lo revierte con una quebradora. Y Sheamus aprovecha la ocasión para golpearlo con un rodillazo desde la tercera cuerda.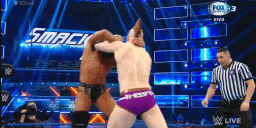 A pesar de la clara desventaja física, que incluso hace que Ciampa y Gargano se vean como niños frente a gigantes, el Campeón NXT obtiene la victoria con un rollup contra Cesaro.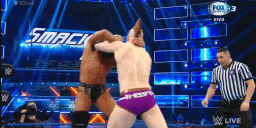 Antes de un corte comercial, aparece la hasta hace poco desaparecida Campeona Femenil SmackDown, Asuka,
Asuka es entrevistada en el ring y dice que derrotó tanto a Charlotte como Becky Lynch. Por lo que no quiere hablar de ellas.
Mandy Rose interrumpe y dice que ella sí está lista para Asuka. En otro momento, esto hubiese sido motivo de risas.
3- Mandy Rose vs. Asuka
La lucha inicia con un forcejeo, pero Asuka rápidamente demuestra su superioridad con un veloz par de patadas.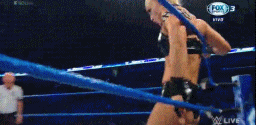 Interrumpe Lacey Evans, pero una vez más, se va sin hacer nada.
Tras otro corte comercial, Asuka tiene atrapada a Rose con una palanca al tobillo.
Pero esta logra escaparse y sorprende a la japonesa con un brutal rodillazo.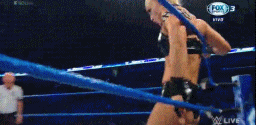 La japonesa equilibra la contienda con otro rodillazo. Pero luego de que Rose fingiera una lesión, sorprende a Asuka con un rollup y se lleva la victoria.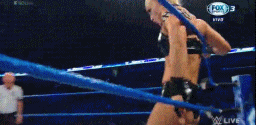 Ahora entrevistan a Charlotte por el ataque que sufrió en Elimination Chamber. Pero ella afirma que no importa lo que haga Lynch, el estelar de WrestleMania será ella contra Ronda Rousey.
Volvemos a lo que sucede en el ring, donde Ricochet hace su entrada para enfrentarse a Eric Young.
4- Eric Young vs. Ricochet
Luego de un corte, Young (acompañado de Alexander Wolfe y Killian Dain) y Ricochet están intercambiado llaves. El debutante despliega sus maniobras atléticas, pero no tiene una gran reacción.
Ricochet se prepara para volar, pero Wolfe lo distrae y Young lo azota con un duro golpe.
Sin embargo, Ricochet revierte su suerte con unas tijeras.
Y sigue castigando a su rival con un antebrazo volador, seguido de un shooting star press.
Luego de sacarse de encima a Wolfe y a Dain, Ricochet gana con un impresionante senton de 630 grados.
Se viene el evento estelar. Kofi Kingston da un emotivo discurso dedicado a Xavier Woods y Big E tras bambalinas. Y de ahí se dirige al ring.
Pero antes, se repite el video que Kevin Owens transmitió ayer en Raw. Parece que les dio flojera grabar otro para el público de la marca azul. 
6- Kofi Kingston, Jeff Hardy y AJ Styles vs. Daniel Bryan, Randy Orton y Samoa Joe
Los técnicos ya están en el ring, al igual que Randy Orton. Mientras entra Daniel Bryan, el monarca dice que el público es responsable de la muerte de grandes pensadores, como Tomás Becket o Sócrates.
Dice que ya sabe quién es su oponente para Fastlane. Y según el Campeón WWE, no será ninguno de los presentes en el ring, debido a que ya les ganó en Elimination Chamber.
Ahora sí, tras un corte comercial, Bryan y Kingston empiezan la lucha, pero el campeón le da el relevo a Joe, quien forcejea con el ghanés. El público respalda totalmente a Kofi.
Luego Orton y Hardy toman el relevo de sus equipos. La víbora castiga con pisotones a su rival.
Después Bryan toma el relevo, y ataca con sus brutales patadas a Hardy.
Ahora Orton y Kofi están en el ring. El favorito del público tumba a la víbora con un lazo aéreo. Luego grita «estúpido» al aire, que fue lo mismo que le dijo Orton 10 años atrás por haber arruinado el final de su lucha.
Tras un corte comercial, Bryan golpea con todo a Kingston y le dice que no se merece estar en el ring con él. Lo que hace que el público se enoje y ovacione al a víctima.
Ahora el relevo lo tiene AJ Styles, quien en un ataque de adrenalina barre con todos los rudos.
Caos en el ring, Samoa Joe interrumpe interrumpe el Calf Crusher de Styles, Hardy remata a Joe, Orton saca a Hardy del ring.
Kofi toma el control de la lucha y soluciona el conflicto rematando a Bryan. Los técnicos se llevan la victoria.
Después de la lucha, McMahon aparece para confirmar que Bryan defenderá el Campeonato WWE en Fastlane ante Kingston. El público aprueba la decisión con una apabullante ovación.
Así termina SmackDown Live, muchas gracias por acompañarnos con la cobertura.