Nos adentramos en unas semanas muy importantes para Impact Wrestling. Tal vez las más importantes del año, cual camino a WrestleMania se tratase para WWE, en este caso, con la vista puesta sobre Slammiversary 2021. Un evento del que la semana pasada se añadieron los primeros encuentros a su cartel, con un catalizador dramático que sirvió de concreción del atractivo estelar entre Kenny Omega y Sami Callihan, cuando Tommy Dreamer despidió a Don Callis de su puesto de vicepresidente ejecutivo de Impact. 
No obstante, el capítulo de anoche aparcó momentáneamente cualquier nuevo anuncio sobre Slammiversary, si bien siguieron desarrollándose varias historias que seguro desembocarán en esta gran cita del próximo 17 de julio. Sin resultar un show imperdible, su cierre mereció la pena, sólo por ver a Satoshi Kojima repartir estopa junto a Eddie Edwards; supongo que a fin de reforzar lazos con New Japan en vistas a que otros competidores se pasen por la Impact Zone. 
Así luce de momento el cartel de Slammiversary 2021
► Resultados Impact Wrestling – Nuevo compromiso competitivo para Kenny Omega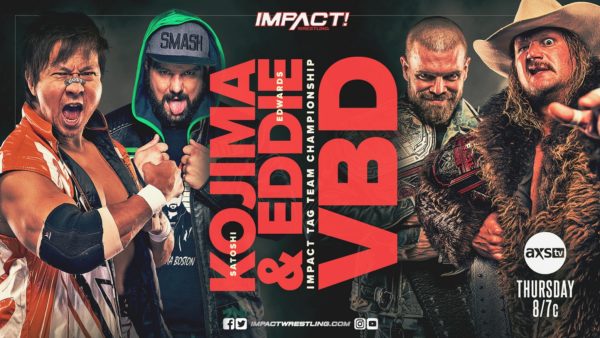 Como vídeo de apertura, Don Callis, acompañado de Kenny Omega, tuvo problemas para acceder a los Skyway Studios, pues ahora ya no es vicepresidente ejecutivo. 
.@TheDonCallis doesn't get an EVP entrance anymore. #IMPACTonAXSTV @KennyOmegamanX pic.twitter.com/II6aOj6OsP

— IMPACT (@IMPACTWRESTLING) June 25, 2021
1 – Rosemary (con Havok) batió a Kiera Hogan (con Tasha Steelz)
Una muy contundente Rosemary hizo méritos para conseguir una oportunidad por el Campeonato de Parejas Knockouts junto a Havok, que es de esperar se anuncie pronto. 
As Above

So Below #IMPACTonAXSTV @WeAreRosemary pic.twitter.com/I3MYD4pHwG

— IMPACT (@IMPACTWRESTLING) June 25, 2021
Tommy Dreamer y Scott D'Amore discuten sobre la destitución de Callis. El "ECW Original" informa a Callis que ejercerá de "consultor" en representación de Anthem. 
.@THETOMMYDREAMER will be overseeing things in IMPACT as a consultant. #IMPACTonAXSTV @ScottDAmore pic.twitter.com/fXGe5DL28q

— IMPACT (@IMPACTWRESTLING) June 25, 2021
2 – Deonna Purrazzo se impuso a Susan (con Kimber Lee)
Dominio casi absoluto de la campeona, que no puso su cetro en juego. Kimber Lee intervino para que "The Virtuosa" no lesionase a Susan. Espero que esto lleve a un duelo en Slammiversary. 
A victory over @realsuyung wasn't enough for @DeonnaPurrazzo, she continued the attack after the match. #IMPACTonAXSTV @Kimber_Lee90 pic.twitter.com/T3SkonsNlT

— IMPACT (@IMPACTWRESTLING) June 25, 2021
Combate de duplas para el próximo jueves. 
Looks like @GottaGetSwann and @Willie_Mack vs. @MegaTJP and @FALLAH1 is coming our way next week. #IMPACTonAXSTV @swinger_johnny @JohnEBravo1st pic.twitter.com/vgGKNTvSMD

— IMPACT (@IMPACTWRESTLING) June 25, 2021
3 – Rohit Raju y Mahabali Shera vencieron a Trey Miguel y Petey Williams
Sólo Shera no competirá en el combate Ultimate X de Slammiversary. Una distracción de Ace Austin y Madman Fulton dio el triunfo a los rudos. Todo, ante un Chris Bey que se hizo una autofoto en la rampa. 
Inaction was action in this case as @DashingChrisBey stayed at the top of the ramp while @MahabaliShera, @FultonWorld, @The_Ace_Austin and @HakimZane dominated. #IMPACTonAXSTV @Walking_Weapon @iPeteyWilliams @TheTreyMiguel pic.twitter.com/KgqaI0oKWm

— IMPACT (@IMPACTWRESTLING) June 25, 2021
Instado por Callis, habrá choque de tercias la semana que viene: Tommy Dreamer, Sami Callihan y Moose vs. Kenny Omega y The Good Brothers. 
.@TheSamiCallihan and @TheMooseNation want in on Team @THETOMMYDREAMER against @KennyOmegamanX, @MachineGunKA and @The_BigLG next week. #IMPACTonAXSTV pic.twitter.com/2iil1nnCnf

— IMPACT (@IMPACTWRESTLING) June 25, 2021
Aprovechando sus tiranteces con Jordynne Grace, Tenille Dashwood quiso que Rachael Ellering se le uniera para formar equipo, pero el rechazo de esta acabó en trifulca, con Jazz de por medio. 
How many different ways can @RachaelEllering say no to @TenilleDashwood? #IMPACTonAXSTV @kalebKonley @Phenom_Jazz pic.twitter.com/8AOqQRNTH3

— IMPACT (@IMPACTWRESTLING) June 25, 2021
4 – Jake Something derrotó a Sam Beale (con Brian Myers)
El alumno de Myers no pudo aprobar su examen ante Something, pero encontró consuelo en el ex-WWE. 
"Don't be like @JakeSomething_ – everything you've ever seen him do…do the opposite." #IMPACTonAXSTV @Myers_Wrestling @sambeale23 pic.twitter.com/K9wyGykddR

— IMPACT (@IMPACTWRESTLING) June 25, 2021
5 – Violent By Design (Deaner y Joe Doering) tumbaron a Satoshi Kojima y Eddie Edwards para retener el Campeonato Mundial de Parejas Impact
Doering ejerció de gran protagonista de la contienda cual coloso imparable, ganando prácticamente en solitario, tras una enorme Powerbomb a Edwards. 
AND STILL IMPACT World Tag Team Champions – @CodyDeaner and @bigjoedoering! #IMPACTonAXSTV @TheEddieEdwards @cozy_lariat pic.twitter.com/x8JZtgpmmV

— IMPACT (@IMPACTWRESTLING) June 25, 2021
BREAKING: @TheDonCallis's team of @KennyOmegamanX, @MachineGunKA and @The_BigLG will face @THETOMMYDREAMER's team of @TheMooseNation, @TheSamiCallihan and @SuperChrisSabin NEXT WEEK on IMPACT! #IMPACTonAXSTV pic.twitter.com/GUL4snT6ll

— IMPACT (@IMPACTWRESTLING) June 25, 2021