Por Darkangelita.
El día de hoy se realizó la fecha 7 del "Best of the Super Junior XX", y con los resultados de los 8 encuentros celebrados, ya se vislumbra quienes son los gladiadores que podrían pasar a la siguiente etapa.
En el Grupo A, Rocky Romero se repone de sus dos derrotas anteriores y supera a Hiromu Takahashi, Romero llega a 6 puntos.  Jushin Thunder Liger consigue una importante victoria sobre Trent Barreta y alcanza las 8 unidades. Ricochet se impone a Taichi y ambos quedan también con 8 tantos.  Por último Alex Shelley vence a Titán, desafortuandamente para el mexicano es su cuarto descalabro, mientras que para Shelley es su tercer triunfo.  Aunque en esta jornada le tocó descanso, Devitt sigue lidereando el grupo, perseguido por Taichi, Jushin Thunder Liger y Ricochet.
Para el Grupo B, las cosas marchan de la siguiente manera, Alex Koslov gana su encuentro contra BUSHI y alcanza 8 puntos.  Tiger Mask IV se impone a Jado con una Crucifix Hold.  Kenny Omega liga su tercer triunfo consecutivo y contabiliza 6 tantos.  Finalmente, Ryusuke Taguchi sigue con su impresionante racha y con su victoria sobre Taka Michinoku llega a 8 puntos, alcanzando la cima de su sector junto con Koslov.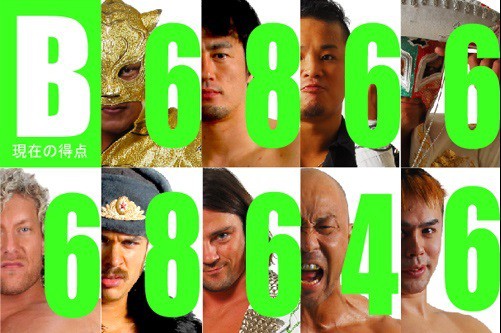 Los resultados completos de la función son:
NJPW 03/06/2013
Yawatahama Citizen Sports Center
Asistencia: 890 Espectadores.
1. Best of the Super Jr. – Grupo A: Rocky Romero [6] vence a Hiromu Takahashi [0] (6:10) con un Tombstone Piledriver.
2. Best of the Super Jr. – Grupo B: Alex Koslov [8] derrota a BUSHI [6] (6:07) con la Russian Star Press.
3. Best of the Super Jr. – Grupo A: Jushin Thunder Liger [8] vence a Trent Barreta [4] (6:26) con La Magistral.
4. Best of the Super Jr. – Grupo B: Tiger Mask IV [6] derrota a Jado [4] (8:01) con una Crucifix Hold.
5. Karl Anderson & Tama Tonga vencen a Hiroshi Tanahashi & Captain New Japan (10:14) cuando Anderson usa la Gun Stum sobre Captain.
6. Best of the Super Jr. – Grupo A: Ricochet [8] derrota a Taichi [8] (7:42) con un 630° Splash.
7. Best of the Super Jr. – Grupo A: Alex Shelley [6] vence a Titan [4] (3:36) con la Shelley Clutch.
8. Best of the Super Jr. – Grupo B: Kenny Omega [6] derrota a Brian Kendrick [6] (9:40) con un Croyt's Wrath.
9. Best of the Super Jr. – Grupo B: Ryusuke Taguchi [8] vence a TAKA Michinoku [6] (7:31) con la Gedo Clutch II.
10. Togi Makabe, Hirooki Goto & Tomoaki Honma derrota a Kazuchika Okada, Tomohiro Ishii & Gedo (12:55) cuando Makabe usa un King Kong Kneedrop sobre Gedo.
BEST OF THE SUPER Jr. XX – Clasificación parcial.
Grupo A:
1. Prince Devitt [12]
2. Taichi [8]
3. Jushin Thunder Liger [8]
4. Ricochet [8]
5. Alex Shelley [6]
6. Rocky Romero [6]
7. Titan [4]
8. Trent Barreta [4]
9. Hiromu Takahashi [0]
Grupo B:
1. Ryusuke Taguchi [8]
2. Alex Koslov [8]
3. KUSHIDA [6]
4. BUSHI [6]
5. Brian Kendrick [6]
6. TAKA Michinoku [6]
7. Tiger Mask IV [6]
8. Kenny Omega [6]
9. Jado [4]