WWE RAW AUGUST 8, 2022 .— Tommaso Ciampa was one of the greats of NXT, obtaining the maximum title in a pair of occasions. But in the main cast he had not done much until last Monday managed to be the winner of a lightning tournament with which the next challenger of Bobby Lashley by United States Championship. Can Ciampa dethrone to the ebony mastodon? The action of the blue mark of WWE is broadcast from Rocket Mortgage Field House. as Cleveland, Ohio
 

See this post on Instagram

 
The rivalry of Mysterio with Judgment Day seems to have no end. And although in SummerSlam they had the support of Edge, on Raw he accidentally connected a Spear to Dominic Mysterio, causing some tension. For now, in this episode Mistery King will be measured hand-to-hand with Finn Balor, who will have his teammates close: Rhea Ripley y damian priest.
WWE Raw August 8, 2022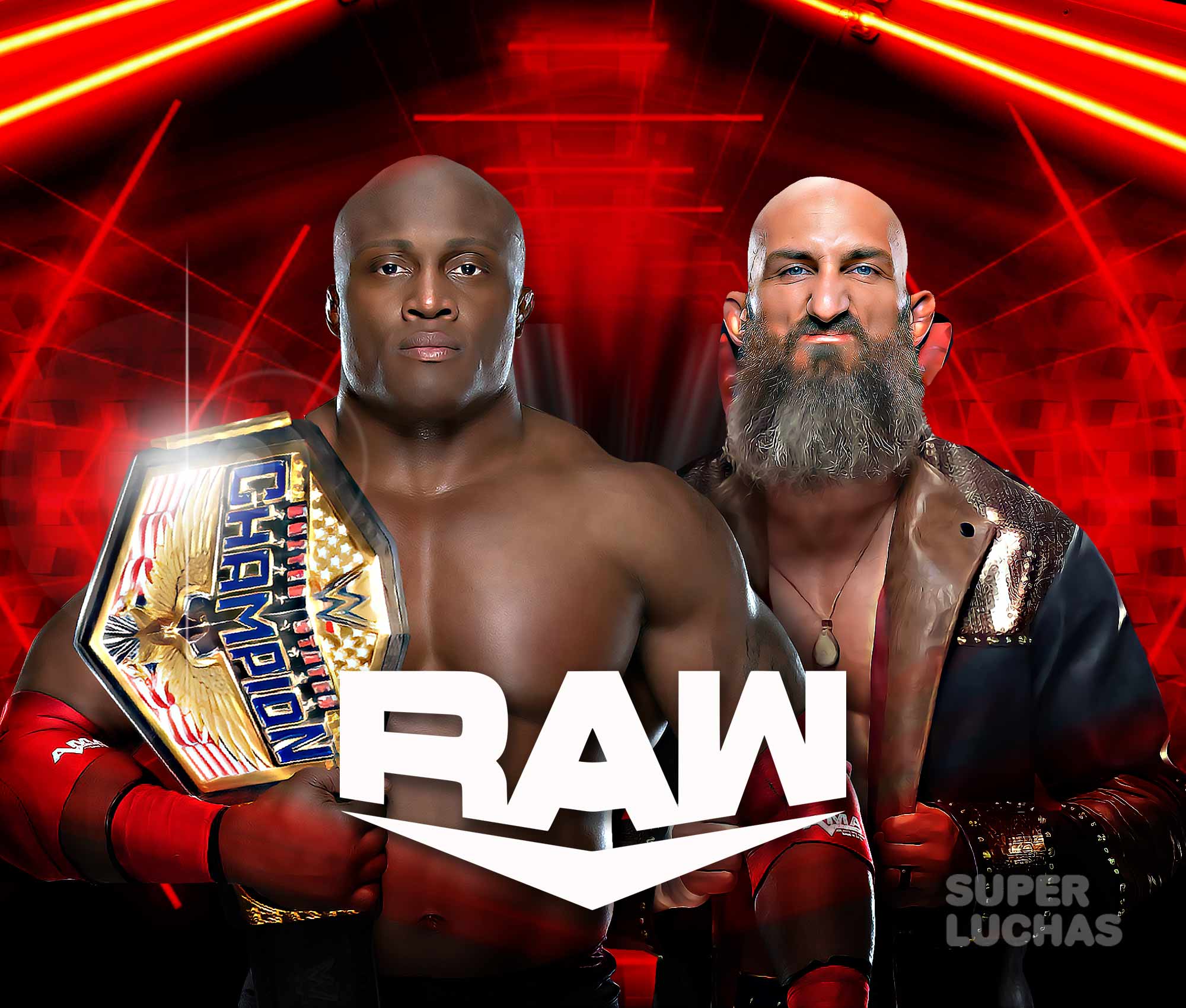 The program began with the announcement of the eight teams that will be part of the tournament to define the new WWE Couples Champions. Although there were some teams that were expected, the novelty was the inclusion of Nikkita Lyons and Zoey Stark, Superstars of NXT.
👀#WWERaw pic.twitter.com/aOAwV5HOvr

- WWE (@WWE) August 9
Bayley, Iyo Sky and Dakota Kai opened the program, and the first began to mess with the public saying that they have come to save the women's division. Then, he referred to Bianca Belair, making fun of her and pointing out that he will go after her.
Bayley said that she was the only one in WWE who realized what Iyo Sky and Dakota Kai can bring to the table, and that they have been very hungry. Dakota Kai calmed Bayley down and said that she and Iyo will win the Women's Tag Team Championship.
Alexa Bliss interrupted along with Asuka and Bianca Belair, with the former saying that if they make it past the first round, they will face them and lose. Bianca said that she wants to end her business with Iyo Sky, although she wouldn't mind tag-teaming.
Bayley denied the challenge for tonight, but she did for Clash at the Castle. Bianca agreed. However, she didn't hold anything back and attacked Bayley, getting the rest involved as well. Several officers came to separate them, although that did not prevent Alexa from throwing herself on the rest.
We would have to look at what was the last women's match in a PLE that was not for a title (even if it involved the champion)

Anyway, the fight in Cardiff is going to be hell😱😱😱 #WWERaw

— Staircase Offbeat (@staircaseoffbeat) August 9
WWE RAW August 8, 2022 | Live results | Bobby Lashley vs. Ciampa
1. Seth Rollins vs. Angelo Dawkin
This fight was to be expected after the events of last week, and Dawkins took the lead. However, when Rollins appeared to neutralize him, Ford stepped in and created a distraction that caused Dawkins to recover and attack him outside the ring. After the commercial cut, Rollins took it out on Ford and he had armed himself with a chair, but was discovered and expelled. No longer having to deal with the distraction, Rollins looked more confident, although he failed to land the stomp on two attempts and took a Powerbomb, but recovered.
Rollins doesn't put up a bad fight, and Dawkins wasn't far behind.
Ford's distractions affected the flow of the meeting, in its first part.
And Rollins wins it with a Pedigree, in tribute to his father Triple H, we insist, they both had a good fight today. #WWERaw

- WWE Argentina (@WWEArgentina_OK) August 9
Rollins finally nailed the stomp on Dawkins, but Ford came to the rescue to prevent further damage.
Backstage, Dominik was haranguing Rey for her match against Bálor, but Edge went on to apologize to Dominik for last week's spear. Dominik seemed to accept them, but pushed the Hall of Famer and left, despite his father trying to calm him down.
Miz and Ciampa were interviewed prior to the latter's match for the United States Championship, with Miz praising the former NXT Champion. Ciampa said that he will dedicate the victory to Harley Race.
WWE RAW August 8, 2022 | Live results | Bobby Lashley vs. Ciampa
2. Kevin Owensvs. Ezekiel
KO returned to the screens and this rivalry that had been going on for several weeks was resumed, but we saw a very aggressive side of the former Universal Champion, who hit Ezekiel / Elias with everything.
We saw an aggressive side of KO for the first time in a while.
There was NO fight as such. nothing to rate
Kevin Owens has charged Ezekiel with a powerbomb. What a statement of intent from Triple H. #WWERAW pic.twitter.com/l1noEx9ELo

- Luigi (@LuigiWrestling) August 9
Finn Bálor arrived with Damian Priest and said that Dominik has already dumped him and Edge and that he will feel the real danger. Priest added by saying that he prefers to embarrass Edge in two weeks in Toronto and challenged him to a heads up and threatened to finish him off in front of his family.
How a song can make this STABLE look great #WWERaw

ROLOOOOOON! pic.twitter.com/EDNGz0DMA9

– RCedillo (@BBYRAFA) August 9
WWE RAW August 8, 2022 | Live results | Bobby Lashley vs. Ciampa
3. Finn Bálor vs. Mistery King
Rey arrived without Dominik, even though he was looking for him and waiting until the last, but he tried to focus and started punishing Bálor, who had Priest at ringside. However, the masked man took the initiative, until he missed an iron and it was Bálor's turn to apply his offense. Rey recovered, but couldn't make the 619 thanks to Priest, and Bálor took the opportunity to throw Rey against the post. When Rey managed to recover, Priest interfered again, until Edge arrived to take care of him, leaving only Bálor and Rey in the ring, with the latter applying a Sunset Bomb and achieving a count of two. Bálor missed a Coup de Grace, but was left at the mercy of a 619 that did not prosper because Rhea Ripley appeared with a battered Dominik, distracting Rey.
Although it could have been better, the combat was pretty decent.
Although it was part of the story, Rey was not at 100% of her abilities.
Give Rhea Ripley a male title now, who shits half a roster of boys. #WWERAW pic.twitter.com/dN0JDGMpIh

- Luigi (@LuigiWrestling) August 9
WWE RAW August 8, 2022 | Live results | Bobby Lashley vs. Ciampa
4. Tournament for the Women's Couples Championship - First round: Dakota Kai and Iyo Sky vs. Dana Brooke and Tamina
The tournament began to define the successors of Sasha Banks and Naomi, who have not yet appeared, with a fight in which we were going to see the power of the group led by Bayley, who was not going to miss the action. Dana Brooke is the 24/7 Champion, but that was on the back burner here; however, she was able to take the initiative and managed to connect her rivals with an iron. While the former NXT already had control of the match, the public began to mess with Bayley. Tamina came close to taking the win over Sky, but Dakota made it to the save. Outside, Bayley knocked out Dana and Tamina had to deal with her handicap, and she paid dearly by taking a couple of kicks from Dakota.
IYO SKY and Dakota Kai qualify for the next round of the Couples Tournament after defeating Dana Brooke and Tamina, without a doubt she has to be the winners, it is what the Couples Championship needs. #WWERaw pic.twitter.com/ydkPaZJgHG

— ⚡ CHARLY WRESTLING ⚡ (@CharlyWrestling) August 9
Kevin Owens justified the attack on Ezekiel because he knows that more eyes are watching this show now and he wanted to make it clear to them that this is the KO Show.
WWE RAW August 8, 2022 | Live results | Bobby Lashley vs. Ciampa
5. United States Championship: Bobby Lashley vs. Ciampa
Ciampa came with a red and blue outfit, in homage to Harley Race, the first to carry this title. Miz harangued him from ringside, but after an initial attack, Ciampa was dominated and neutralized by the All Mighty, who consolidated his dominance. Miz was trying to get in the way, but Lashley threw Ciampa at him. After the commercial, Lashley continued to dominate, but Miz continued to save Ciampa, until AJ Styles arrived to remove him from the scene; Ciampa tried to surprise with a vine and achieved a count of two; Ciampa left the corner open and, after another distraction caused by Miz and Styles, Lashley hit the exposed corner and was close to defeat; Ciampa was still flirting with victory with a Gargano Escape and a Willow's Bell, but the All Mighty lived up to his nickname, and stopped his rival's momentum with a Uranage.
Very good combat. Ciampa proved to be a great challenger.
He should have been in the star.
Bank to Ciampa but I agree with the result.
Everything comes in its time and more now!#WWERaw

– Pablo98 (@Pablo98yt) August 9
WWE RAW August 8, 2022 | Live results | Bobby Lashley vs. Ciampa
6. Omos vs. two victims
After several weeks off TV, Omos reappeared and had to face a fight at a disadvantage, although the disadvantage did not seem to be for the giant, who handcuffed victims number 1 and 2 without major setbacks.
Omos continues with his destructive power.
Nothing of relevance.
Filling
Omos smashes two local competitors for an easy win. #wweraw #omos #mvp #ClashattheCastle pic.twitter.com/1ObwURBOgI

— Angelsito (@angelsito_yt) August 9
Backstage, Seth Rollins was interviewed and said that he will finish Riddle as soon as he returns, the same way he did with Cody Rhodes, and if he comes to make an announcement next week, he will be there.
WWE RAW August 8, 2022 | Live results | Bobby Lashley vs. Ciampa
7. Chad Gablevs. Dolph Ziggler
Continuing what they both did in the triple threat from a week ago, we had this match between two former amateur wrestlers and, as expected, we saw some very technical, low-to-the-canvas action where each had their offense. Minutes ticked by and Gable had Ziggler struggling with an Ankle Lock, though he refused to give up and managed to break free. Gable kept trying, but Ziggler also wanted to end the fight with a single kick.
Very good combat. A lot of technique in both fighters
Perhaps an exaggerated resistance from Ziggler
I hope they pull the trigger with Chad Gable, he's great #WWERaw

– Eren Da Silva 🇧🇷 (@ErenKroos) August 9
Several police officers ran into the ring area, drawing the attention of some Superstars.
WWE RAW August 8, 2022 | Live results | Bobby Lashley vs. Ciampa
8. No disqualification: AJ Styles vs. The Miz
Without further delay, AJ Styles and Miz took the action to the outside of the ring and began going all out and pulling out some weapons, although Miz did not allow them to take out a table under the ring. However, Styles attempted to Clash the announce table, though he ended up flying over the guardrail. After the commercial break, we saw a recovered Styles and finally managed to get a table, but was woken up early by Miz and a kendo stick, although the Phenomenal neutralized his rival's offense with a Pele Kick. After a back and forth, Styles landed a Phenomenal Forearm and was about to win, but Ciampa removed the referee, although Styles surprised him and the two ended up fighting. After the struggle, Ciampa was the one who visited the table, although The Miz took advantage of the situation and hit him with a chair when he was looking for the Phenomenal Forearm; however, not even with the Skull Crushing Finale could he win. Miz was throwing against a chair that was in the corner and was ready.
Good fight, with a very well used stipulation.
The three minutes after Styles' victory, a waste.
AJ Styles defeats The Miz in the main event of #WWERaw pic.twitter.com/DaRjBzfgHZ

— ⚡ CHARLY WRESTLING ⚡ (@CharlyWrestling) August 9
AJ Styles was celebrating, but something caught his attention in the audience, as if someone had wanted to get into the ring. In any case, nothing else happened and the program went off the air.