WWE ELIMINATION CHAMBER 2022.— WWE returns to Saudi Arabia after Crown jewel, last October. This time it is a regular PPV, with strong implications for WrestleMania, specifically with the duels in which the game will be played. WWE Championship and Universal Championship, because its results will define what we will see in the big Texas double event. The action of WWE is broadcast from Jeddah Super Dome. as Jeddah, Saudi Arabia
 

See this post on Instagram

 
The poster is as follows:
WWE ELIMINATION CHAMBER 2022
The Elimination Chamber kickoff began with a very different panel for this afternoon with Jackie Redmond, Matt Camp and Peter Rosenberg, who gave a brief review of this afternoon's poster.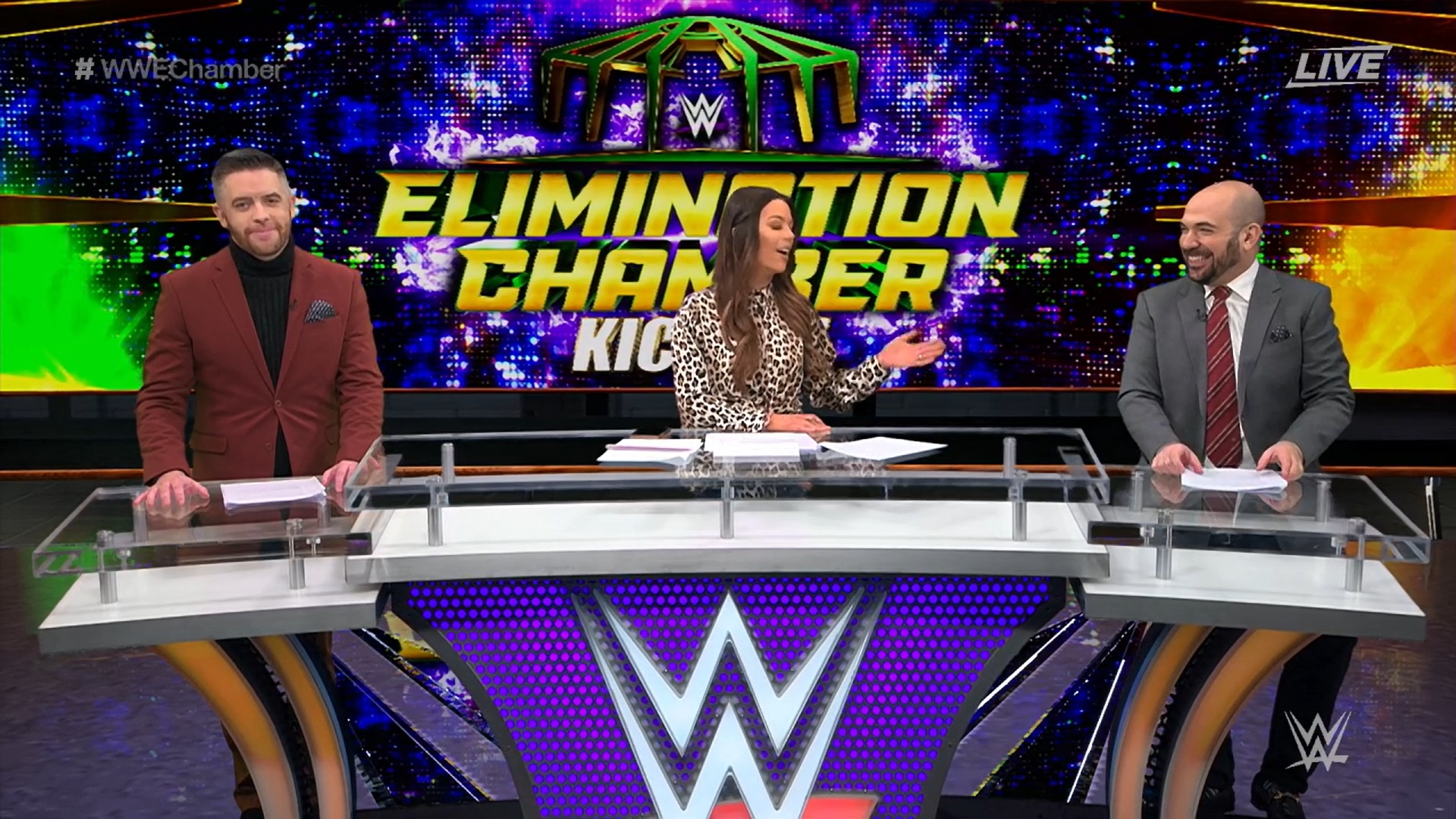 Natalya was interviewed behind the scenes, despite not having a scheduled meeting. She said that Rhea Ripley was bold of her to call herself the "iron woman" as that distinction should belong to her.
And after several reviews, we had the first match of the evening.
WWE ELIMINATION CHAMBER 2022 | Live results | Roman Reigns vs. Goldberg
1. Rey Mysterio vs. The Miz
Dominik accompanied his father in this match and eventually exerted his influence by distracting The Miz and returning him to the ring when he attempted to flee. However, that was not enough to end The Miz's dominance in the opening minutes of the match. Then the fight became more even with both exchanging accounts of two. At the request of the public, Rey's 619 arrived, but The Miz got out of the ring and then managed to trick the referee into getting Dominik ejected.
The Saudi Arabian public was able to enjoy Rey Mysterio and the support was massive
Decent combat, nothing spectacular.
After the fight, Miz wanted to surprise Rey, but Dominik came to the save and, along with his father, they applied a double 619 and finished off with an iron each.
Pure fan service this victory of @Mistery King #WWEChamber

—Kekker (@HeelKekker) -
With some final thoughts, the WWE Elimination Chamber 2022 kickoff concluded
WWE ELIMINATION CHAMBER 2022 | Live results | Roman Reigns vs. Goldberg
2. WWE Universal Championship: Roman Reigns vs. Goldberg
This fight will take place after COVID-19 deprived us of it a couple of years ago with the defection of Roman Reigns; Unfortunately for the WWE Hall of Famer, this version of Reigns is much better than he was back then. Still, Goldberg was not intimidated and began the match as equals against the Tribal Chief, who also showed great strength. In a clash of spears, Goldberg was the one who managed to land his, but Reigns quickly counterattacked.
Reigns is still dominant. 537 days as champion.
Lackluster combat. more was expected
Goldberg always bleeds, doesn't he? He spent what had to happen? #WWEChamber

– Rolsogames #WWE2K22 (@RolsoG) -
WWE ELIMINATION CHAMBER 2022 | Live results | Roman Reigns vs. Goldberg
3. Elimination Chamber: Rhea Ripley vs. Bianca Belair vs. Doudrop vs. Alexa Bliss vs. Liv Morgan vs. Nikki Ash
And the first of the two fights inside the elimination chamber arrived, with an opportunity for the Raw Women's Championship at stake for the winner. Bianca Belair was already assured of entering the final, which was an advantage considering that all of them have either been champions or had starting opportunities in the recent past. Nikki and Liv Morgan were the ones to start. This was the first match for Alexa Bliss since she lost to Charlotte Flair at Extreme Rules, and her booth featured a curious detail, because she had a swing for her to distract herself while it was her turn to enter. The minutes passed and Doudrop was the next to enter and handcuffed her two rivals. Rhea was the next to make her entrance and evidently went after Nikki, who failed to run away and received the Riptide to be the first eliminated. The clock ticked down and Alexa Bliss was next and showed quite a bit of momentum going in, and Liv Morgan, who hadn't gotten up for several minutes, eliminated Doudrop before Bianca Belair entered, who went after her. However, it was Bianca herself, as well as Rhea Ripley, who tried to take advantage of her rivals to show who of the two was stronger. Alexa dominated Liv and with the Twisted Bliss she eliminated Liv; Seconds later, Bianca surprised Rhea with a KOD and knocked her out of it as well. Alexa and Bianca were the last, but the superior strength of the latter was evident, although Alexa was the one who came closest to victory at times.
Good performance by Alexa Bliss on her return.
Bianca Belair never fails to impress.
Rhea Ripley and Liv Morgan are two favorites of the public, but it seems that there are no plans for them.
Predictable and short.
Another result that ended as it should. Bianca Belair is the one who deserves to go to #Wrestlemania and recover what should never have been lost, although this time on RAW.

By the way, is it me or did the fight last very little? It was short for me.#WWEChamber

– Rolsogames #WWE2K22 (@RolsoG) -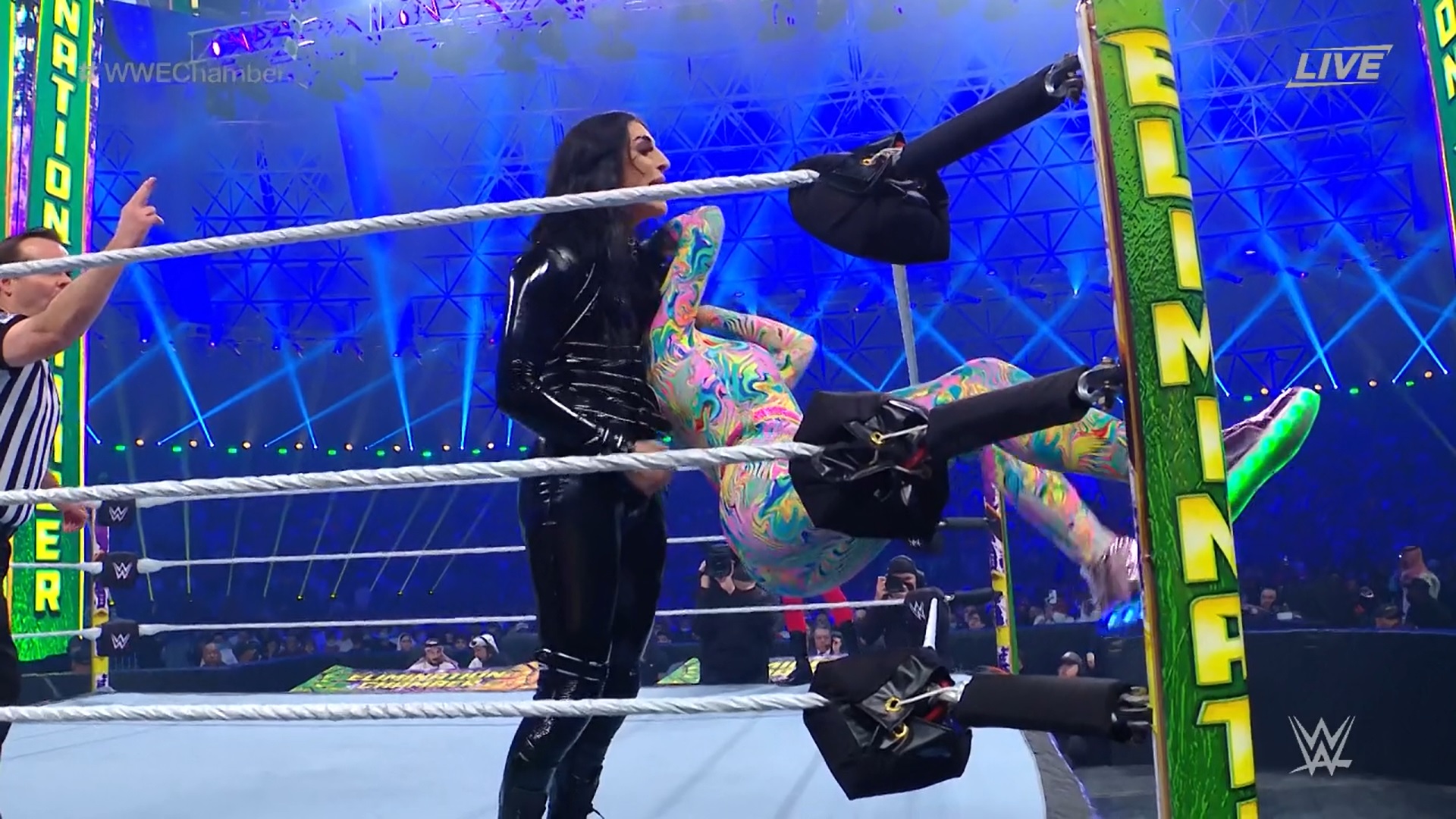 WWE ELIMINATION CHAMBER 2022 | Live results | Roman Reigns vs. Goldberg
4. Charlotte Flair and Sonya Deville vs. Naomi and Ronda Rousey
As a stipulation for this match, Ronda had to fight with one arm tied behind her back, although Sonya Deville also wore a sling, this was removed once the bell rang and took advantage of the situation that Ronda could not move one of her arms. Charlotte played cat and mouse with her challenger, only taking advantage of her moments of greatest vulnerability, and Sonya incredibly carried the weight of the fight for her team in the first minutes, with Charlotte giving the strongest attacks with the intention of finishing off, unsuccessfully. With Ronda out of action, the rude managed to isolate Naomi for a few minutes, until the first returned.
Ronda looked good and her rhythm will improve every time after almost three years out of a ring.
Ronda won, how entertaining?#EchamberCL #WWEChamber

– Ignacio O. Vásquez Ruiz (@NachoteVasquezR) -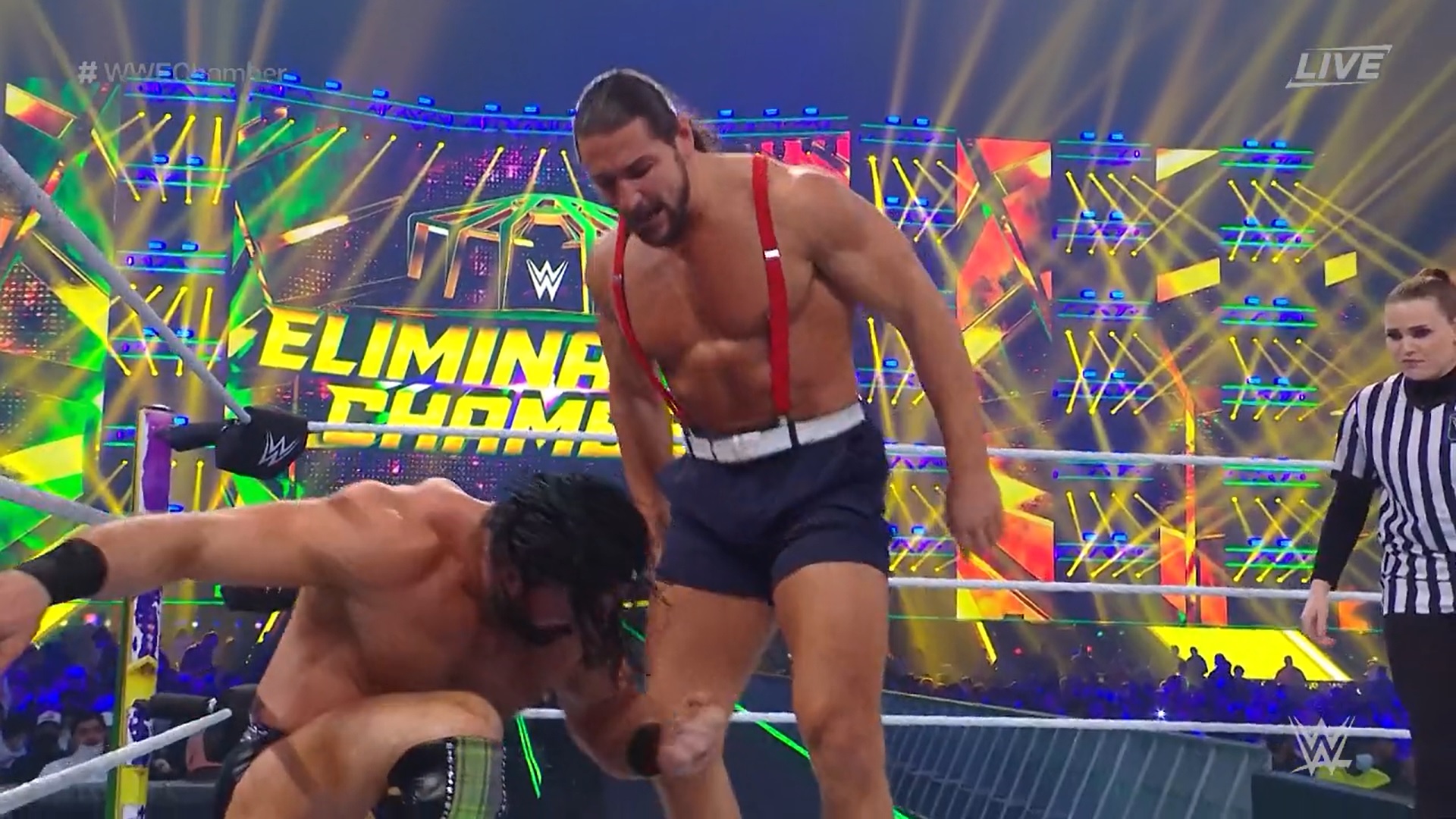 WWE ELIMINATION CHAMBER 2022 | Live results | Roman Reigns vs. Goldberg
5. Falls Count Anywhere: Drew McIntyre vs. mad cap moss
Given the stipulation, Madcap Moss was accompanied by Corbin and they took the opportunity to apply numerical superiority to him in sight and patience of the referee, but the Scotsman managed to recover and resisted each attack, and seeking to get his hands on not only Moss, but also Corbin, but the two against one looked complicated for the former WWE Champion. Corbin wanted to surprise McIntyre, but McIntyre drew his sword and forced him back.
Not much was expected, but the fight turned out better than expected, thanks to the performance of both.
A bad fall from Madcap Moss raised fears for the worst, but luckily the match was able to continue.
Missing more weapons
My respects to Madcap Moss for continuing the fight after that catapult and for putting in the effort alongside Drew. #WWEChamber

– Elweyquevelasluchas (@josMP4670) -
The Miz complained about the defeat he suffered against Rey Mysterio due to the intervention of his son; however, he said that he will be looking for a partner to even things up and that he has someone in mind.
WWE ELIMINATION CHAMBER 2022 | Live results | Roman Reigns vs. Goldberg
6. Raw Women's Championship: Becky Lynch vs. Lita
Bianca Belair is already waiting for the winner at WrestleMania 38, and this was a clash between two of the standard bearers of two generations in the WWE women's division. The public hummed Becky Lynch's song at the entrance, but once the fight started, all the support was for Lita. However, the champion was the one who dealt the best blows, showing great aggressiveness, but the WWE Hall of Famer resisted, and with her combination of Twist of Fate and Moonsault she almost achieved victory.
Lita prepared well and gave a great fight, despite the defeat.
The result was not in doubt.
Incredible old Lita still has gasoline in the tank and apparently for a while???#WWEChamber

- Seba Figueredo (@ sebaelgordo_14) -
The audience applauded Lita for her great effort.
WWE ELIMINATION CHAMBER 2022 | Live results | Roman Reigns vs. Goldberg
7. SmackDown Tag Team Championship: The Usos vs. The Viking Raiders
Although the Viking Raiders earned this starting opportunity several weeks ago, this rivalry did not develop much; however, it looks like they will have more time to work it out, as The Usos appeared out of nowhere and attacked their challengers outside the ring, leaving them unable to get up.
@ARDLPodcast what the hell was that??? #WWEChamber Does anyone remember when Viking Riders were War Machine???? pic.twitter.com/A1LDDtwyGF

- Dogtagón (@dogtagon) -
WWE ELIMINATION CHAMBER 2022 | Live results | Roman Reigns vs. Goldberg
7. Elimination Chamber - WWE Championship: Bobby Lashley vs. Brock Lesnar vs. AJ Styles vs. Riddle vs. Seth Rollins vs. austin theory
And the main event arrived, with a Bobby Lashley looking to get a successful defense in one of the most difficult fights that exists; On the other hand, Brock Lesnar was looking to leave the chamber as a champion and seek the possibility of the championship vs. championship against Roman Reigns at WrestleMania. Austin Theory and Seth Rollins were the ones who started the fight, which unlike what happened in the women's division, there was no one with a guaranteed appearance place. Rollins and Theory were more teasing than action and the minutes passed quickly until with a bombshell from Rollins, Theory went through Lashley's compartment and he was hit. Riddle entered and showed great momentum from the start, while Lashley was checked out and had to be taken for medical attention. The clock reached zero and it was AJ Styles' turn, who gave an account of his rivals, while the WWE Universe wondered if Lashley would return, since if he didn't, we would automatically see a new WWE Champion. Riddle did not forget Orton and applied the modified DDT to Rollins and Styles and like a viper, he chose to wait for Lesnar, who decided to enter on his own without even waiting for his turn. He applied an F5 to Rollins and Riddle in less than a minute to put both of them out of action. Another F5 for Styles and the Phenomenal is history, leaving only Austin Theory, who sought to avoid any confrontation, until he was finally hunted down. However, with a cheap shot he already outmaneuvered Rollins, Riddle and Styles and had Lesnar in trouble for a brief while. The commentators indicated that Lashley was subjected to a concussion protocol and will not return, now guaranteeing a new champion, paving the way for Lesnar.
Lesnar showed his dominance by eliminating everyone.
Theory surprised more than one when it was thought that he would be the first eliminated.
Rollins, Riddle and Styles were nothing Lesnar.
What happened to Bobby Lashley. Unfair.
I can't believe what my eyes are seeing.

DO NOT
LO
WANT
BELIEVE.#WWEChamber

- RulyRKO WWE (@RulyRKO_YT) -
The champion vs. champion match at WrestleMania 38 was announced. Brock celebrated with the fans.
They had everything to be an unforgettable elimination chamber and they made it the most forgettable of all #WWEChamber

– A Such Alexis (@alan_alext0n) -
And so the broadcast of WWE Elimination Chamber 2022 concluded.