Taka MichinokuLeader Just Tap Out (JTO) and who fights regularly in New Japan Pro Wrestlingwill hold the event «TAKA Michinoku 30th Anniversary Tournament-Taka Taichi Despemania»The 12 September.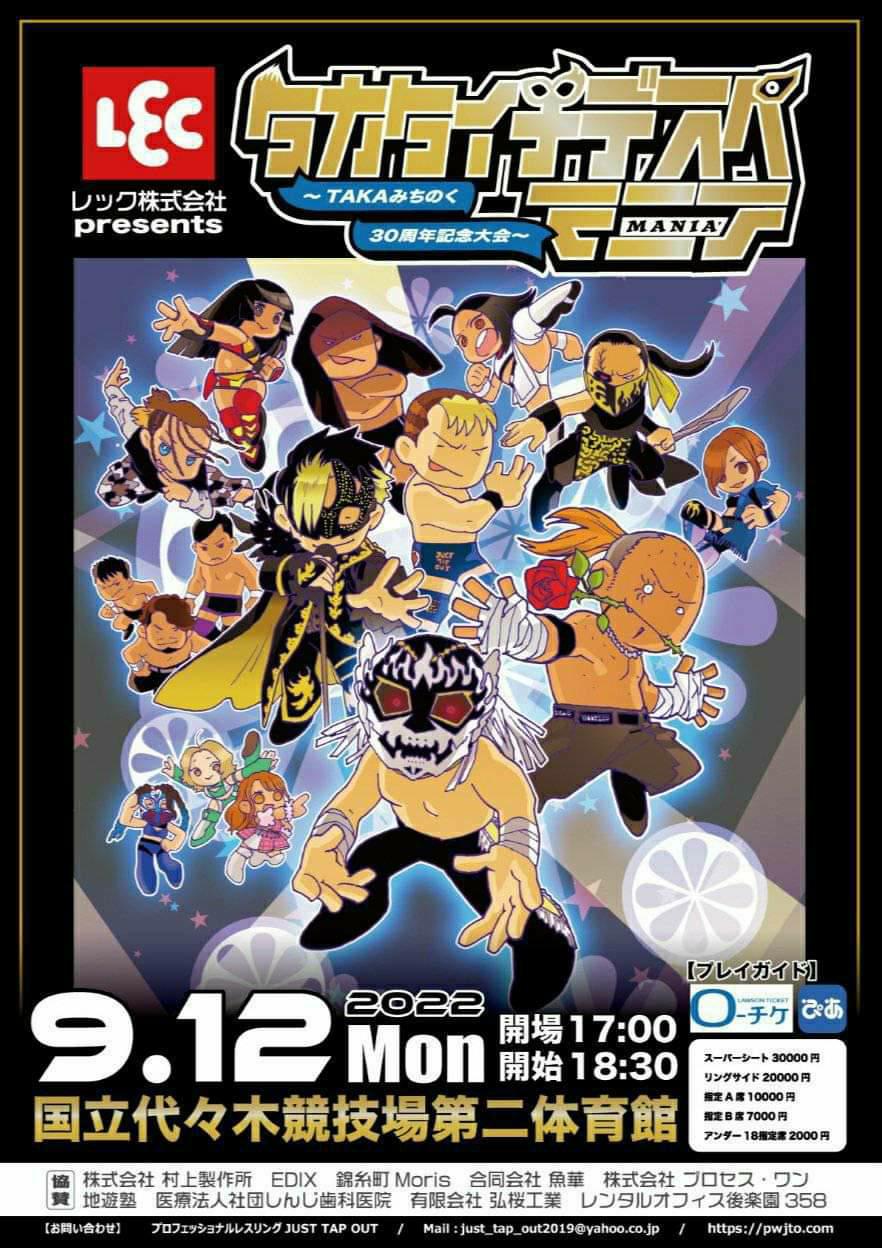 Sponsored by JTO, the function will feature the participation of fighters from New Japan, Suzuki Army, All Japan Pro Wrestling and Stardom to commemorate 30 years of the career of this peculiar fighter. The event will take place at Yoyogi Stadium and 50% capacity will be allowed; attendees will be allowed to vocally support the wrestlers, but must wear their face mask at all times.
► TAKA Taichi Despemania 
The event will feature three stellar matches; the third and last of them will be carried out by El Desperado, facing Jun Kasai from Freedoms. In "TakaTaichi Mania 2.5", tempers were heated between both fighters so they challenged each other to an individual fight. It should be noted that it will not be a death match, but surely the violence will be unleashed.
The other main event will be AJPW's Taichi and Yoshitatsu taking on NJPW's Hirooki Goto and Ryusuke Taguchi. Taichi started his career in AJPW, but this year marks the 3th anniversary of his debut. Also the other 20 wrestlers involved are celebrating his XNUMXth anniversary, so this will be a commemorative match with four very special fighters.
In the third stellar fight, TAKA Michinoku will integrate a trio with CIMA and Kaz Hayashi from GLEAT and will face The Great Sasuke (Michinoku Pro), Dick Togo (independent) and Gedo (NJPW). Sasuke, Togo, and Gedo were seniors at Universal Pro Wrestling, the company where TAKA Michinoku began his professional wrestling journey.
But it will not be the only match where TAKA Michinoku participates, since the Suzuki Army is an inseparable part of the fighter's career, so he will join forces with their leader Minoru Suzuki, Yoshinobu Kanemaru and DOUKI. His opponents will be Hideki Sekine, Hikaru Sato, and JTO juniors Akira Jumonji and Genta Yubari.
The young fighters of JTO will also participate in the function of their mentor, Aoi and Tomoka Inaba will face Maika and MIRAI from Stardom. The latter was Inaba's classmate, in K-Dojo and Maika was also Inaba's classmate but in JTO. It will be interesting to see Maika and MIRAI work together, since in Stardom they belong to rival groups.

Also, JTO's Tatsuya Musashi, Eagle Mask and Katsumi Fire will face Yuji Hino, Isami Kodaka and Yasu Urano. This will be a battle between TAKA's all-time favorite disciples, some from JTO and some from K-DOJO. Eagle Mask will supply Ren Ayabe, who is hospitalized for a collapsed lung.
In the second women's match, Misa Kamihime, Sumika Yanagawa, and rhythm will collide against Yu Yamagata, Hibiscus Mii (Ryukyu Dragon Pro Wrestling), and YuuRI (Ganbare Pro Wrestling). Yamagata was a K-DOJO student, while YuuRI is a former JTO so it will be a battle between current JTO members and fighters who trained at TAKA Michinoku's dojo.