La empresa Dragon Gate llegó al Kobe Sambo Hall como parte de la gira «The Gate of Victory 2022», donde se expuso un campeonato.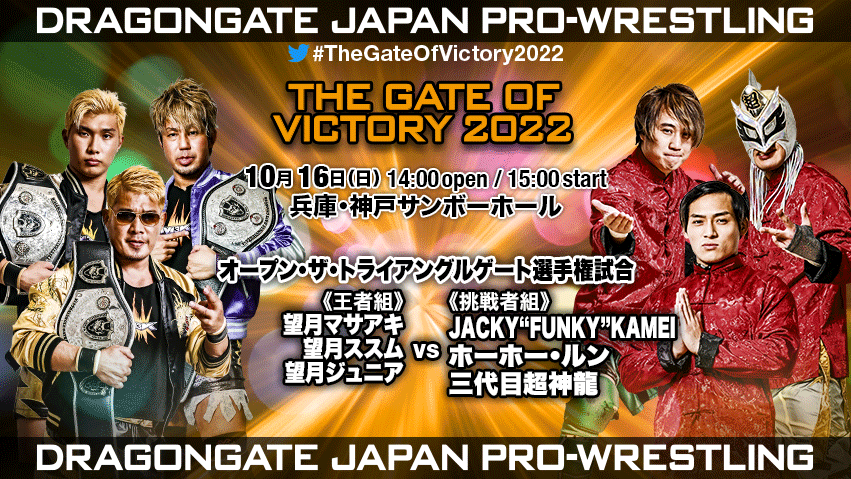 ► «The Gate of Victory 2022»
Doce luchadores se enfrentaron en un Royal Sambo, donde los luchadores se fueron eliminando hasta que quedaron Dragon Kid y H.Y.O, quienes sostuvieron una dura refriega hasta que el enmascarado Kid lanzó a su rival fuera del ring.
Siguió un combate de duplas donde GOLD CLASS (Ben-K y Kota Minoura) (c/Minorita) dieron cuenta de Z-Brats (BxB Hulk y Diamante). Kzy sigue tras Ben-K y lo desafío al término de la lucha, entregándole una rosa amarilla.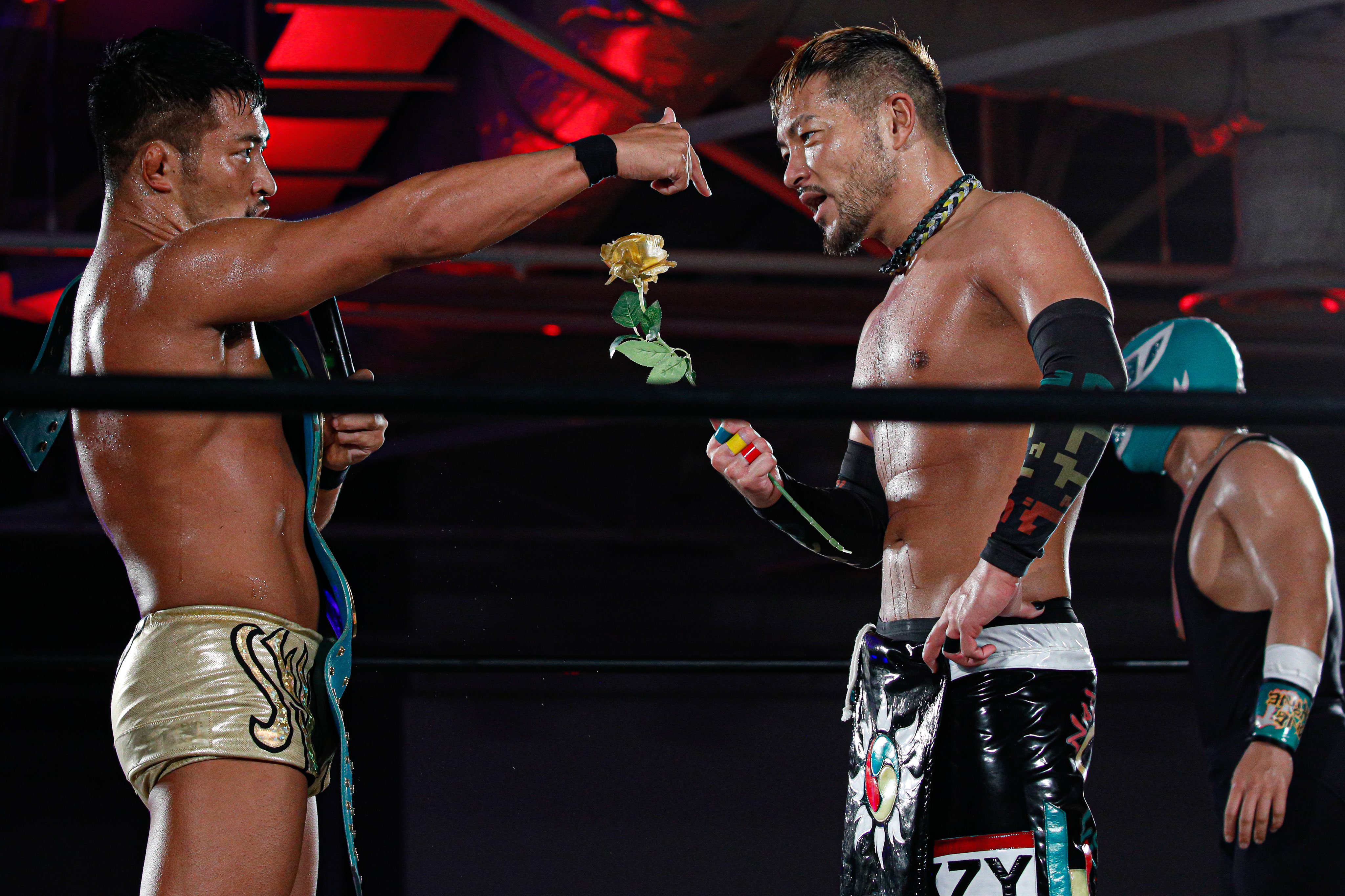 En el turno estelar, M3K (Masaaki Mochizuki, Mochizuki Jr. y Susumu Mochizuki) concretaron la tercera defensa del Campeonato Open The Triangle Gate respondiendo al reto que hicieron Kung Fu Masters (Ho Ho Lun, Jacky Funky Kamei y Super Shenlong). Susumu Mochizuki se hizo cargo de Shenlong para asegurar la victoria.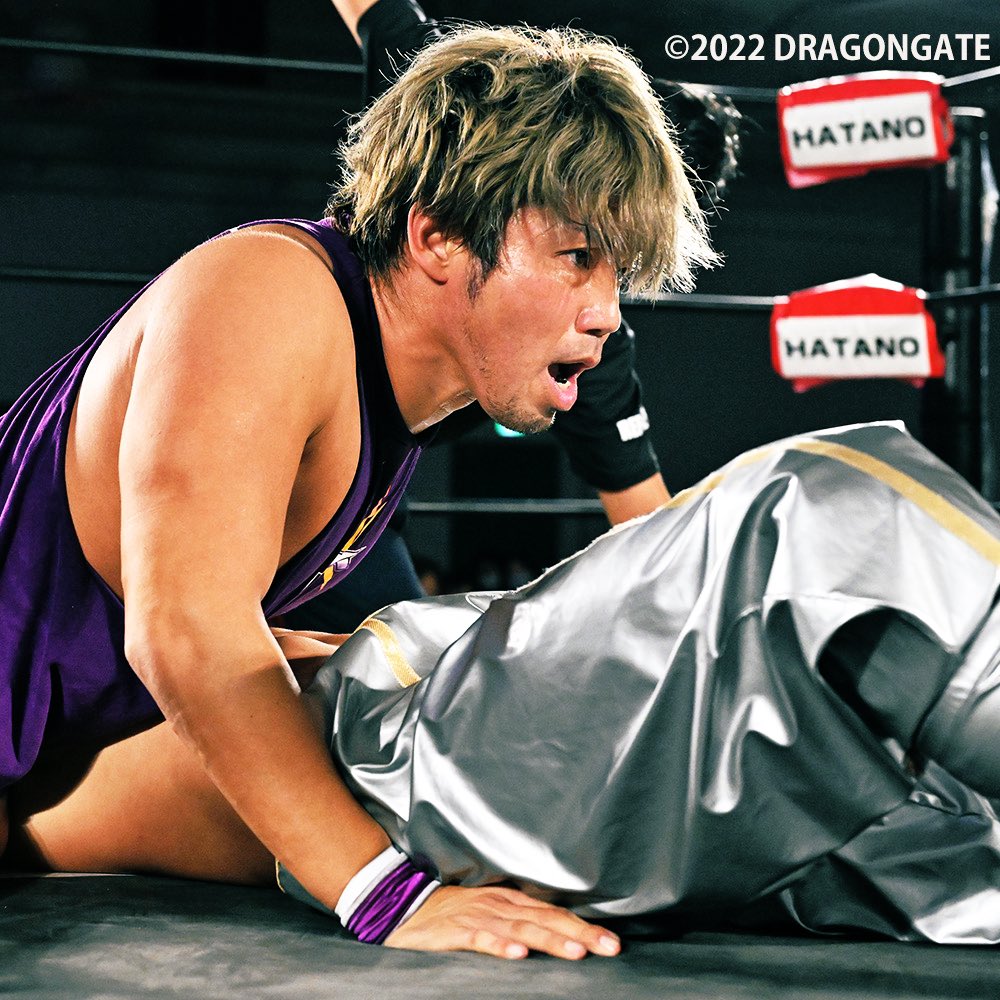 Los resultados completos son:
Dragon Gate «THE GATE OF VICTORY 2022», 16.10.2022
Kobe Sambo Hall
Asistencia: 393 Eepectadores
1. Kzy, BIGBOSS Shimizu y Strong Machine J vencieron a Yuki Yoshioka, Dragon Dia y Madoka Kikuta (12:55) con un BIGBOSS Press de Shimizu sobre Dia.
2. Yasushi Kanda e Ishin Iihashi derrotaron a Gurukun Mask y Shisa BOY (8:22) con un Komata-Style Chokeslam de Iihashi sobre BOY.
3. KAI venció a Ryu Fuda (1:23) con un Lariat.
4. 12 Man Time Difference Battle Royal «Royal Sambo»: Dragon Kid derrotó a H.Y.O lanzándolo por encima de la tercera cuerda (11:25). Orden de eliminación: Problem Dragon, Punch Tominaga, Genki Horiguchi, Ultimo Dragon, Kaito Nagano, Takashi Yoshida, Konomama Ichikawa, Don Fujii, Jason Lee, U-T y H.Y.O.
5. Kota Minoura y Ben-K con Minorita vencieron a BxB Hulk y Diamante (15:06) con un Maximum Driver de Ben-K sobre Hulk.
6. Open the Triangle Gate Title: Masaaki Mochizuki, Susumu Mochizuki y Mochizuki Junior (c) derrotaron a JACKY «FUNKY» KAMEI, Shenlong III y Ho Ho Lun (19:43) con un Dream Limit Package de Susumu sobre Shenlong defendiendo el título