La empresa japonesa Dragon Gate dio a conocer la realización de su torneo anual individual "King of Gate 2022".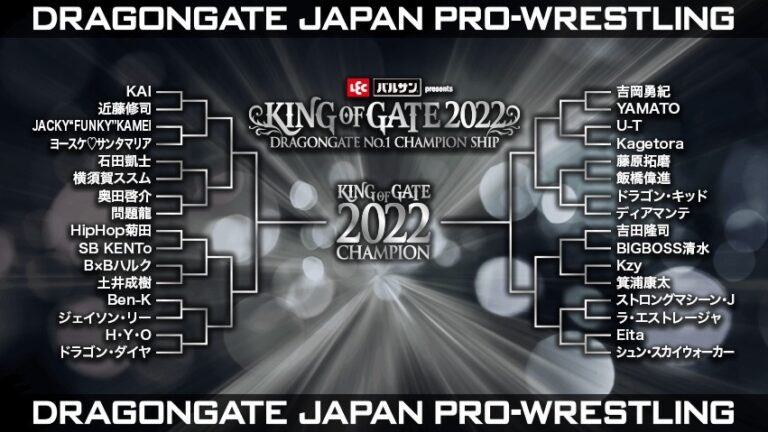 Tras "Dead or Alive 2022" viene el Torneo King of Gate, que determina al luchador que desafiará a KAI por el Campeonato Open The Dream Gate en el Kobe World, el evento más grande de Dragon Gate.
La competencia cambia del habitual round robin a la eliminación directa, con la participación de 18 competidores. El torneo iniciará el 11 de mayo en el Korakuen Hall y terminará el 2 de junio en el mismo recinto con 12 jornadas de competencia.
Kzy fue el vencedor del año pasado y KAI es el actual monarca máximo, quien si intervendrá en la justa deportiva.
Solamente se dio a conocer el calendario de la primera ronda, las restantes fechas se sabrán hasta el momento de su realización.
► Dragon Gate Pro-Wrestling – "KING OF GATE 2022" – Calendario de la primera ronda.
Dragon Gate, 11.05.2022
Tokyo Korakuen Hall
– King of Gate – Round 1: KAI vs. Shuji Kondo
– King of Gate – Round 1: SB KENTo vs. HipHop Kikuta
– King of Gate – Round 1: YAMATO vs. Yuki Yoshioka
– King of Gate – Round 1: Eita vs. Shun Skywalker
Dragon Gate, 14.05.2022
Tajimi City Industrial Bunka Center
– King of Gate – Round 1: U-T vs. Kagetora
– King of Gate – Round 1: Problem Dragon vs. Keisuke Okuda
Dragon Gate, 15.05.2022
Kobe Sambo Hall
– King of Gate – Round 1: JACKY "FUNKY" KAMEI vs. Yosuke ♡ Santa Maria
– King of Gate – Round 1: Dragon Dia vs. H.Y.O
– King of Gate – Round 1: Ishin Iihashi vs. Takuma Fujiwara
– King of Gate – Round 1: La Estrella vs. Strong Machine J
Dragon Gate, 20.05.2022
Sapporo ii-one Stadium
– King of Gate – Round 1: Kaito Ishida vs. Susumu Yokosuka
– King of Gate – Round 1: BxB Hulk vs. Naruki Doi
Dragon Gate, 21.05.2022
Sapporo ii-one Stadium
– King of Gate – Round 1: Jason Lee vs. Ben-K
– King of Gate – Round 1: Dragon Kid vs. Diamante
Dragon Gate, 22.05.2022
Sapporo ii-one Stadium
– King of Gate – Round 1: BIGBOSS Shimizu vs. Takashi Yoshida
– King of Gate – Round 1: Kzy vs. Kota Minoura